Tuesday Evening, December 6, 2022
Chief Meteorologist Danielle Dozier/Meteorologist Jessica Camuto
The heavy rain that tracked through the area Monday lead to a daily rainfall record for Huntsville. Huntsville recorded 2.23 inches of rain, breaking the 112-year-old record of 2.15 inches.
As for the temperature, the lowest it's been today has been 59 degrees in Huntsville. If the temperature remains above 58 degrees through midnight Wednesday, we'll break the current record for a high minimum temperature of 58 degrees from 1998.
Rainy Periods This Week
Wednesday morning and afternoon will bring periods of rainfall back to our area. Some of the downpours may be moderate to heavy in intensity leading to ponding on the roads. It will be another warm and humid day with temperatures in the low 70s but we should not break a record high.
Paint Rock River Near Woodville
A stationary front nearby, combined with ample moisture and upper air disturbances will lead to several rounds of rain throughout the week. An additional one to two inches of rain will be possible across the TN/AL border with lesser amounts of one-half to one inch. Locally higher amounts will be possible in areas of heavy rain. A Flood Warning remains in effect for the Paint Rock River through noon Wednesday.
While temperatures will be unseasonably warm through the week, we'll still be off from the record highs. Temperatures will cool back to the upper 50s and closer to average this weekend.
Our Live Alert 19 weather app will keep you updated on the forecast.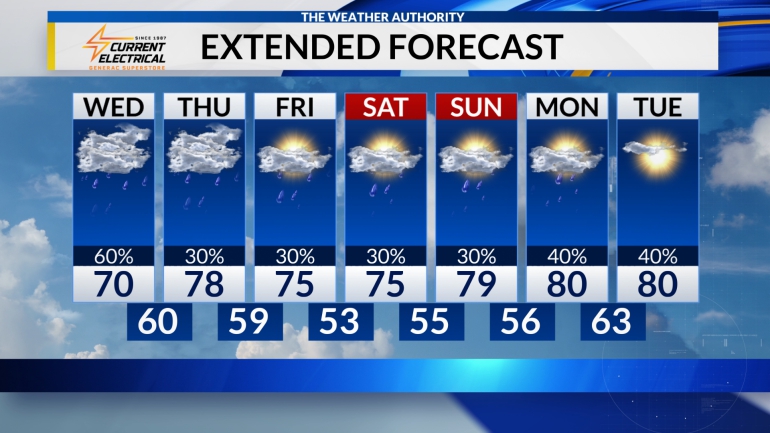 LOOKING FOR THE EXTENDED FORECAST? Check your local conditions on the Live Alert 19 app. Don't have it on your mobile device? Click here to learn how to download the Live Alert 19 app