Thursday Morning, March 23, 2023
Chief Meteorologist Danielle Dozier/Meteorologist Ben Smith/Meteorologist Jessica Camuto
Pleasant Thursday Before Rain Returns
Thursday will be a warm, breezy and sunny day. Temperatures will be 10 to 15 degrees above average and push up close to 80 degrees. A strong southerly wind will develop, with occasional wind gusts up around 25 mph expected.
Tornado Risk Increasing Through April
The Weather Authority is tracking the risk of thunderstorms late Friday night into Saturday morning.
A cold front is forecast to bring a line of showers and embedded storms through the Tennessee Valley, with the threat of strong to severe storms. Isolated storms could develop during the evening hours in northwest Alabama, but the greater threat will come during the overnight time frame. A line of showers with embedded storms will move into northwest Alabama between 10 and 11 p.m. and then track eastward. This line of storms is expected to be out of the area by early Saturday morning.
The storm impacts look to be damaging wind gusts and locally heavy rainfall. A tornado will also be possible, especially across northwest Alabama. Please have multiple ways to get warnings and a way to get woken up in the middle of the night should a warning be issued. An early outlook shows rainfall amounts of 0.50 to 1.25 inches of rain could be possible. Wind gusts up to 45 mph outside of storms will also be possible early Saturday.
Stay with the Weather Authority for the latest on this next system.
Our Live Alert 19 weather app will update you.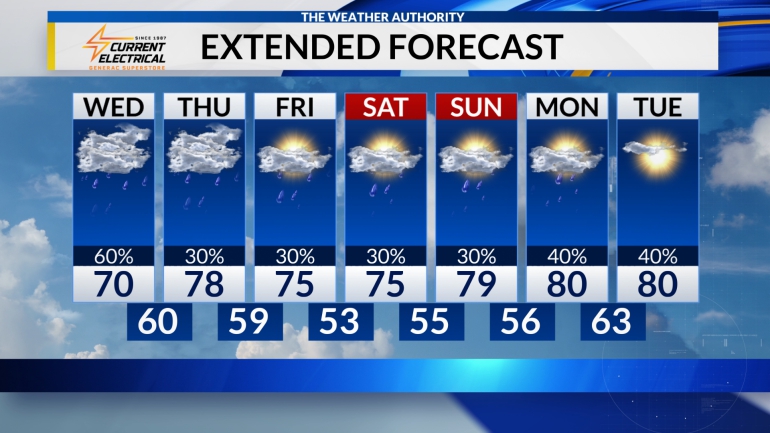 LOOKING FOR THE EXTENDED FORECAST? Check your local conditions on the Live Alert 19 app. Don't have it on your mobile device? Click here to learn how to download the Live Alert 19 app