Thursday Morning, March 30, 2023
Chief Meteorologist Danielle Dozier/Meteorologist Aaron Ayers/Meteorologist Ben Smith
Gorgeous Thursday, Stormy Friday
Sixth Tornado Confirmed From Friday night's storms
Temperatures will rise to the low 70s Thursday afternoon. It will be a nice day to get outdoors or start prepping for the risk of severe storms Friday night!
The Weather Authority is closely monitoring a system that will track through the area Friday into early Saturday morning. The Storm Prediction Center has already highlighted much of the area for the threat of strong to severe storms Friday evening into early Saturday morning.
While some showers will be possible Friday morning with thunderstorms in the afternoon, the greater risk of strong to severe storms will be from late Friday afternoon into early Saturday morning. Any storms that develop in the late afternoon or evening will be capable of damaging winds, large hail and/or a tornado. The threat of damaging winds and tornadoes will continue as a line of storms pushes through the Tennessee Valley between roughly 10 p.m. and 2 a.m. This timing could change so make sure you keep checking back!
Winds outside of storms will be strong, with gusts between 40 and 50 mph from Friday afternoon into Saturday. This could be enough to lead to downed trees in saturated soils and power outages. Rainfall amounts of 0.50 to 0.75 inches will be possible.
Once the storms clear early Saturday, the rest of the day will be nice but gusty. Sunday will also be great to get outdoors.
Severe storm chances return again next Tuesday.
Stay with the Weather Authority Authority for continued updates as we get closer.
Download our Live Alert 19 weather app so you have a way to get warnings.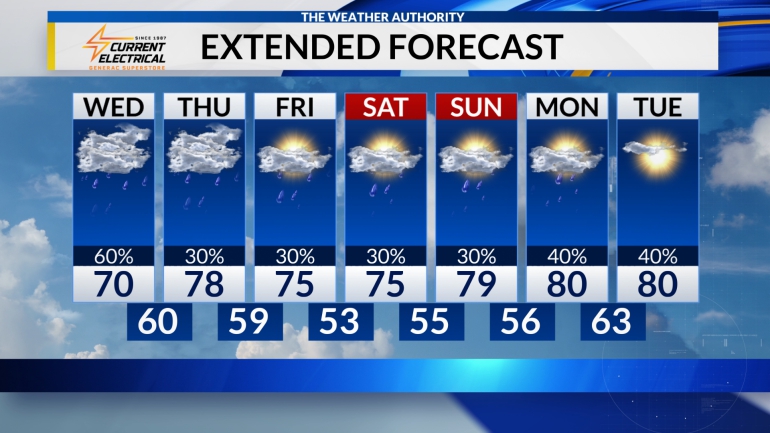 LOOKING FOR THE EXTENDED FORECAST? Check your local conditions on the Live Alert 19 app. Don't have it on your mobile device? Click here to learn how to download the Live Alert 19 app