Monday Evening, November 28, 2022
Chief Meteorologist Danielle Dozier/Meteorologist Ben Smith
Severe Storms Possible Tuesday into Wednesday
The Storm Prediction Center has a slight (2 out of 5) risk for severe storms across much of our area for Tuesday. There's an enhanced (3 out of 5) risk across far northwest Alabama. Storms may pose a threat of damaging winds of 60 mph, large hail and/or a tornado.
The threat of moderate to heavy rainfall of one to two inches through the period will also lead to a threat of ponding on the roads and flash flooding.
Storms will be possible starting mid-afternoon Tuesday but the greater risk for a severe storm will be Tuesday evening into the overnight hours of Wednesday. The Tennessee Valley will be under a threat for severe storms from roughly 4 p.m. Tuesday until 4 a.m. Wednesday with storms moving west to east.
Temperatures will climb to the upper 60s and low 70s in the afternoon and it will turn windy into the evening, with occasional gusts of 35 to 40 mph outside of any storms. Temperatures will likely fall on Wednesday as a strong cold front moves through.
Our Live Alert 19 weather app will keep you updated on the forecast.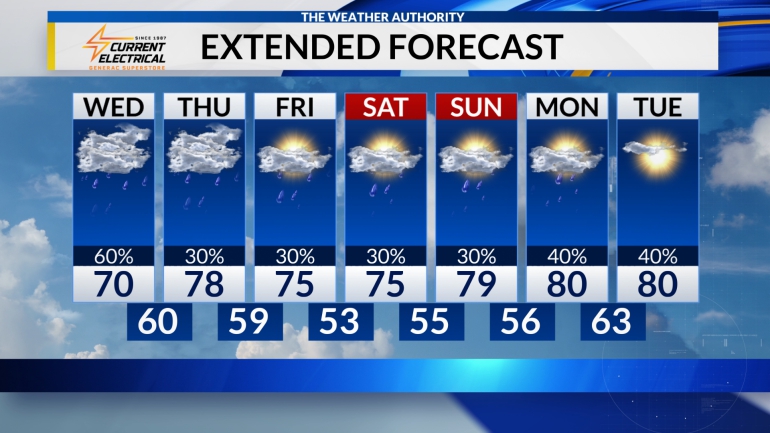 LOOKING FOR THE EXTENDED FORECAST? Check your local conditions on the Live Alert 19 app. Don't have it on your mobile device? Click here to learn how to download the Live Alert 19 app