Sunday, August 14, 2022
Meteorologist Jessica Camuto/Meteorologist Aaron Ayers
Weekend Forecast
Another comfortable morning across the Tennessee Valley, with temperatures starting off in the 60s. Temperatures will rise into the low 90s this afternoon, which is near average for this time of year. As winds begin to shift out of the south, moisture will be ushered in leading to an increase in humidity. It will not be too uncomfortable today but it will become a bit muggy. If you plan to spend time outdoors make sure you grab the sunscreen and sunglasses.
Next Week's Rain Chance
After a beautiful weekend, the rain chance returns to the region. Any rainfall will be beneficial, as some locations are continuing to experience drought conditions. Rain activity looks to be isolated in coverage Monday and become more widespread by midweek. Although the coverage of showers and storms will be limited Monday, the environment will be favorable for isolated strong storms. A stronger disturbance passing through the region late Tuesday into Wednesday will lead to scattered showers and storms, some of which could be on the strong side.
The main threats storms will pose next week will be locally heavy rain, gusty winds, and frequent lightning. Similar to what we experienced last week, heavy rain associated with slow-moving storms could pose a flash flooding threat. Stick with the Weather Authority for the latest in the coming days!
Our Live Alert 19 weather app will keep you updated on the radar and forecast.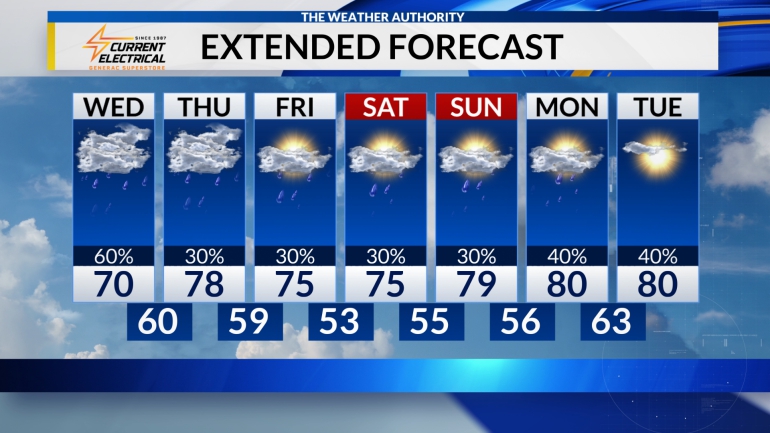 LOOKING FOR THE EXTENDED FORECAST? Check your local conditions on the Live Alert 19 app. Don't have it on your mobile device? Click here to learn how to download the Live Alert 19 app