This is an archived article and the information in the article may be outdated. Please look at the time stamp on the story to see when it was last updated.
The word "unsettled" applied to a weather forecast means we have lot of hour-to-hour changes in the days ahead. Merriam-Webster defines it this way:
"a (1) :  not calm or tranquil :  disturbed [unsettled political conditions] (2) :  likely to vary widely especially in the near future :  variable [unsettled weather] (3) :  not settled down [unsettled dust]"
In other words, the two numbers, picture, and rain chance on the seven day won't really do the day justice. Starting with Monday, we have a chance of some widely scattered showers and thunderstorms. That chance increases for Tuesday, Wednesday and Thursday.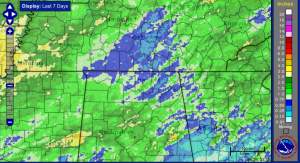 We expect several waves of scattered showers and storms and very unevenly distributed rainfall similar to the past seven days when some got as little as a quarter inch and others got as much as three inches. That gets frustrating when trying to plan to work outside, so be sure to check the details behind the numbers each day as we untangle the mess of scattered storms next week.
While we do not anticipate widespread "severe" weather, storms this time of year can grow strong quickly. Keep ahead of disruptive weather when you're on the go:
Live Alert 19 and the WHNT News 19 App
Baron Saf-T-Net (phone/text)
So how much rain can you expect?
Guidance from NOAA's WPC keeps most of the Tennessee Valley below one inch of rain in the next seven days.  That's bad.  We are missing some really critical rainfall over the past three months; the total deficit since March 1 at Huntsville International stands at 3.24″ with no rain measured today.
This won't get it done.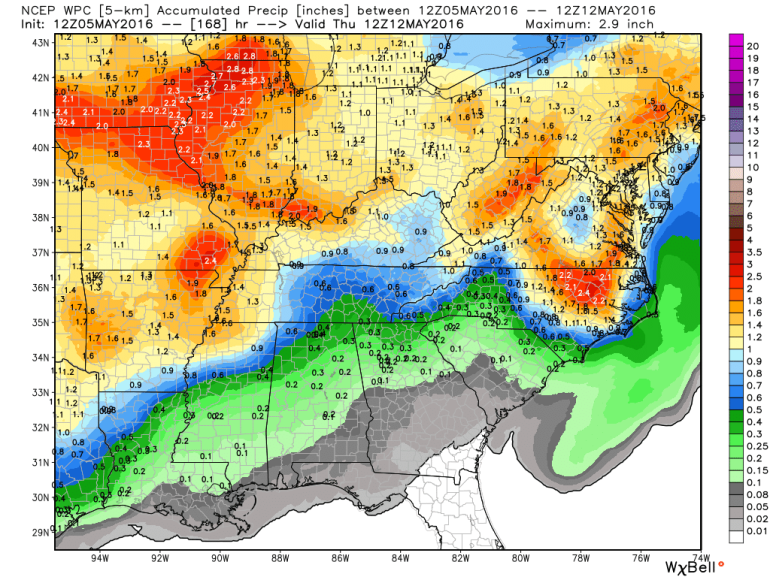 Longer-term ideas suggest near to slightly-above average rainfall through July, but the way it looks now, we may be relying on the tropics to keep us out of drought by the summer.
Get your sprinklers ready!
-Jason
Connect with me!
Facebook: Jason Simpson's Fan Page
Twitter: @simpsonwhnt