This is an archived article and the information in the article may be outdated. Please look at the time stamp on the story to see when it was last updated.
Heavy storms came in two waves Thursday, and both looked a lot more like summertime than spring.  Towering storms produced hail as large as quarters around Sylvania this afternoon, numerous power outages came with the wind and lightning, and locally-heavy rain gave a parched region of the country some much-needed water.
The forecast brings quiet weather for Friday and the weekend, but check out the chill that comes along with it. Farm & Garden information and the Seven Day Forecast are here:
No significant damage came with the storms today, but at least one "suspicious" cloud over Limestone County gives us reason to believe a brief tornado may have happened there:
https://twitter.com/simpsonwhnt/status/730907758195818496/photo/1
Paul Taylor tells us he saw some small tree branches and leaves in the air as this tail touched close to the ground near Elkmont on Alabama Highway 127.
We got some incredible photos of shelf clouds, scud (scary looking clouds), and a fantastic sunset.  You can see some of the best shots here:
Now, to some cool science stuff! UAH has a vertical profiling radar that took this imagery as the storm passed over the campus around 6 PM Thursday.
Nice: "bow echo look as it moved over the UAH X-band Profiling Radar? Here's a vertical profile. #alwx #HUNwx pic.twitter.com/FOmHdLp4ks"

— Simon Brewer (@SimonStormRider) May 13, 2016
You can see the upward and downward moving air (Simon's mark-up), and you can practically see why shelf clouds look the way they do: rain-cooled air in the thunderstorm downdraft races out in front of the rain while warm, humid air rises over top of it.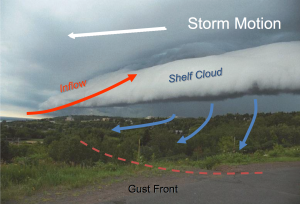 That creates the low-hanging cloud on the leading edge of the storm.
See how similar it looks to this picture with diagrams from NWS Milwaukee?
We'll likely see a lot more of this kind of storm going into the early part of summer, so as always, if you take a cool shot of the Weather Where You Live, share it with us!
Connect with me on social media below, upload it through WHNT.com, or shoot us an email with the photo/video to photo@whnt.com.
-Jason
Connect with me!
Facebook: Jason Simpson's Fan Page
Twitter: @simpsonwhnt