This is an archived article and the information in the article may be outdated. Please look at the time stamp on the story to see when it was last updated.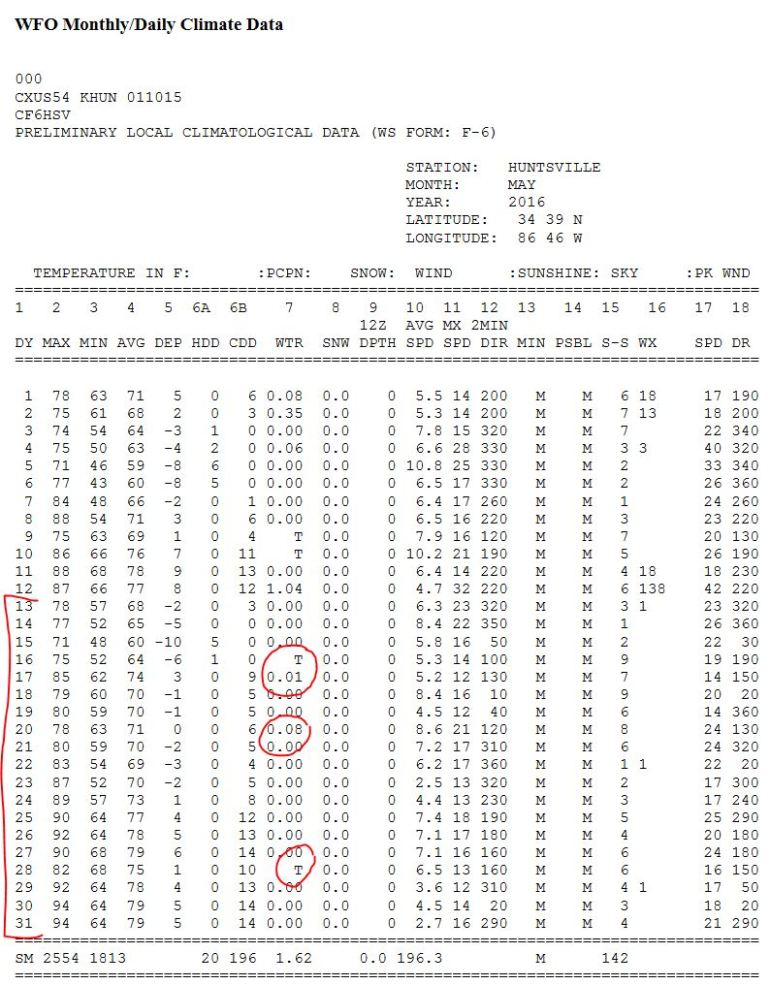 This weekend's rain was the first substantial rainfall that the Tennessee Valley had seen since early to mid-May.
In fact, in the second half of the month, a meager 0.09 inches of rain fell at the Huntsville International Airport. By the end of May, much of the Tennessee Valley had only received about 1.5 inches of rain, a whopping 2 inches below average for the month.
Meanwhile, temperatures soared into the mid-90s, creating a hot and dry scenario that lead to severe drought conditions throughout the Valley.
Before June 1, rainfall deficits in Huntsville were creeping into the 6 inch territory. Muscle Shoals was faring worse — rainfall deficits were north of 7 inches.
So the stretch of rainy weather that hallmarked the beginning of June was more than welcome.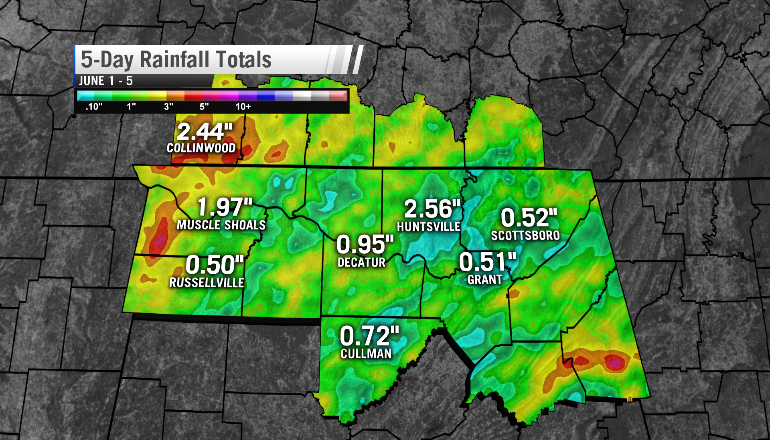 But the rain did not fall evenly. Some neighborhoods picked up as much as 2 to 2.5 inches of rain within the five day period. Others only picked up half an inch. A few neighborhoods got little more than a sprinkle.
This is the nature of summer showers and storms: Even when we are confident that it will rain, the storms may produce a sprinkle in one neighborhood before drifting down wind to another one, dropping heavier amounts along the way. One particular town may get hit by a gully washer, while another town down the road may get nothing.
(READ: Small chance of a big downpour – what does that even mean?)
Huntsville experienced that kind of cloudburst on Wednesday, when a storm dropped 1.97 inches of rain within one hour. For perspective, this is more than the city received in the entire month of May.
#HSV RAINFALL UPDATE: Over 2" fell, 1.97" within the 9pm hour. Still need 4" more to erase the deficit. #Valleywx pic.twitter.com/rPbF7t3kNk

— Christina Edwards (@ChristinaWHNTwx) June 2, 2016
Even with a meager 0.52 inches of rain for the first five days in June, Scottsboro only picked up 0.46 inches in the entire month of May.
But even with nearly two inches of rainfall this week, it was only a drop in the proverbial drought bucket. As of Monday, Huntsville's rainfall deficit is still north of 4 inches; Muscle Shoals' deficit is 6 inches.
Unfortunately, dry and very hot conditions are expected for several days in the Tennessee Valley. June's rain was welcome, but it may not be enough to keep farms, gardens and lawns healthy through the long stretch of hot summer months.
(More: Valley Weather forecast discussion)