This is an archived article and the information in the article may be outdated. Please look at the time stamp on the story to see when it was last updated.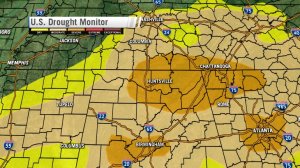 The ongoing drought in North Alabama and Southern Tennessee is expanding. It grew by almost 9% in Alabama and about 2% in Tennessee. The "severe" drought expanded this week from a small area in Northeast Alabama to include most of Morgan, Madison, Lawrence, and Limestone Counties.
What would it take to end the drought? Rain, and a lot of it.  We just don't see a lot in our near future.
According to Alabama's State Climatologist Dr. John Christy, it would take roughly 6 to 7 inches of rain over the next couple of weeks to erase the drought. Spotty heavy thunderstorms won't get the job done, but they do at least provide some temporary relief from the unusually dry conditions so far this season.
The North and East parts of Alabama (including the Birmingham area) need the most rain of all.
The southern half of the state is in decent shape.
So what are the prospects for rain in the near future?  Not very good.
Other than some isolated showers and storms through Friday afternoon, a push of drier (more comfortable) air over the weekend increases evaporation potential, and that means what little good recent thunderstorms did fades fast with no more significant rain following.
There are signs of some stormy weather toward the middle of next week; a thunderstorm complex similar to the one that blasted through the Valley Wednesday evening may develop near a cold front and bring another wave of widespread thunderstorms.
Even if that does happen, drought conditions will continue expanding through early July.
Read more of the technical discussion including agriculture and forestry impacts from NWS Huntsville here: "Moderate to Severe Drought Persists Across the Region."
-Jason
Connect with me!
Facebook: Jason Simpson's Fan Page
Twitter: @simpsonwhnt