This is an archived article and the information in the article may be outdated. Please look at the time stamp on the story to see when it was last updated.
If your travels take you to or from Montgomery, be careful when driving along I-65 this afternoon.
The Alabama Law Enforcement Agency is urging drivers to use extra caution when driving near mile marker 196, north of Montgomery between Marbury and Verbena.
Use extra caution on I65 around the 196mm. Heavy smoke from grass fires. pic.twitter.com/CNO1bgQj8C

— Alabama Law Enforcement Agency (@ALEAprotects) June 8, 2016
Grass fires near the interstate are causing thick smoke, reducing visibility along the interstate. In addition, travelers are reporting intense heat from the fire as they drive by.
https://twitter.com/kwilks773/status/740590779412979716
https://twitter.com/kwilks773/status/740607476001865729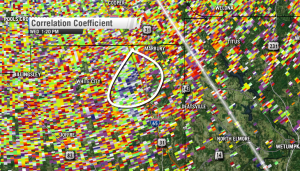 While the brush fire is too small to produce smoke visible by satellite, radar is detecting the smoke as indicated by the image at right.
To put it simply, the image is illustrating areas of non-uniform particles detected by the radar, which is highly indicative of smoke particles rising from the grass fire.
Hot and dry conditions leading to fire hazards
For those traveling along I-65 near mile markers 200 through 180, it is important to slow down and drive cautiously through the smoke. In addition to a decreased ability to see farther ahead, the smoke may irritate travelers who already experience breathing difficulties due to asthma, emphysema, etc.
In addition, be mindful of using machines and objects that create sparks near grassy areas or forests. Due to the prolonged period of hot and dry weather that has set up in Alabama, grass fields and forests contain lots of dry or dead leaves and leafy material that can quickly engulf in flames from a careless spark or a flick of a lit cigarette. Always have water on hand and be prepared to extinguish flames in their entirety before leaving the area.