This is an archived article and the information in the article may be outdated. Please look at the time stamp on the story to see when it was last updated.
Wednesday was beautiful, but Thursday brings back the risk of some severe storms and some heavy rainfall. The Storm Prediction Center outlines a SLIGHT RISK of severe weather for most of North Alabama and an ENHANCED RISK for much of south Alabama.
Thursday starts out breezy, cloudy and mild; temperatures only drop to around 60ºF in the morning. The first half of the day looks dry, but rain and a few isolated storms are possible between 2 PM and 5 PM, and a line of more intense storms and heavy rainfall blows in between 5 PM and midnight. It turns much colder behind the storms! Expect a breezy, wet day Friday: occasional showers and a high only in the 50s (nearly 20 degrees below normal for mid-April).
Thursday's storms: The 'SLIGHT' from the Storm Prediction Center literally means: 'scattered severe storms possible: short-lived and/or not widespread, isolated intense storms.' 'ENHANCED' is a stronger statement meaning more widespread and probably stronger storms in that region.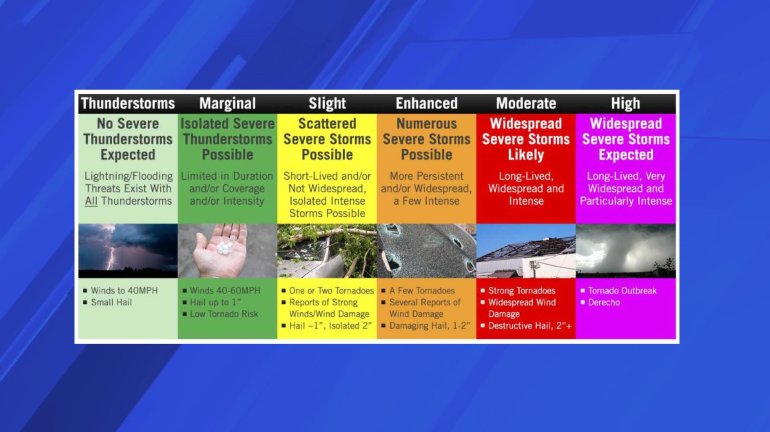 What does that really translate to? It means we are confident that atmosphere is unstable enough and has enough wind shear (changes in wind speed and wind direction with height) to cause some strong wind gusts, small hail, and *maybe* some storms rotate enough to produce a tornado in North Alabama; however, the risk is relatively low this far north.
The line of storms looks much more powerful in Central and South Alabama; high winds over 60 MPH and tornadoes will be much more likely within that ENHANCED RISK area.
When? Storms are most likely in North Alabama and Southern Tennessee between 5 PM Thursday and midnight (12 AM Friday). A few isolated storms and some showers may develop prior to that, but the main wave of storms happens between 5 PM and 12 AM.
What? A line of heavy thunderstorms moves east across Alabama Thursday evening producing strong winds, hail, and tornadoes. The risk of a tornado is lower in North Alabama, but it is not zero.
What should you do now? Be ready to receive a warning should one be required for your area. How? NOAA Weather Radio, Live Alert 19, and WHNT News 19 will be on top of making sure you're in-the-know about any severe storms.
Track heavy storms with WHNT.com's Interactive Radar or swipe over to the radar feature on Live Alert 19!