This is an archived article and the information in the article may be outdated. Please look at the time stamp on the story to see when it was last updated.
LAUDERDALE COUNTY, Ala. (WHNT) –  Alabama State Troopers have released the names of a Rogersville family involved in a deadly wreck in Lauderdale County.
The father and two daughters were flown to Huntsville Hospital.  A third daughter died at the scene.
Matthew Tidwell, 32, is listed in fair condition today.
His 6-year-old daughter, Ava Tidwell, is in serious condition in the Pediatric ICU.  Four-year-old Mattie Tidwell is also listed in serious condition.
The wreck happened around 10:05 p.m. at the corner of County Roads 76 and 92 north of Elgin.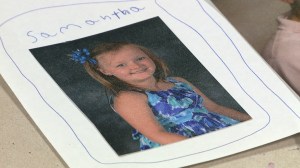 Another of Tidwell's daughters, 8-year-old Samantha, died at the scene.  She was a second grader at Lauderdale County Elementary School.
Students there made cards this morning for the family.
State Troopers continue to investigate the cause of the wreck.