This is an archived article and the information in the article may be outdated. Please look at the time stamp on the story to see when it was last updated.
TENNESSEE VALLEY (WHNT) — Any educator will tell you how scary it is when children's lives are at risk.
We know several north Alabama and middle Tennessee schools have been damaged by tornadoes over the years.  These are times when it's the most clear that schools are not immune to mother nature's violence.
Students at South Lincoln Elementary School drill at least monthly for tornadoes. People there have a reason to take this seriously and find shelter fast; that school was damaged in the April 2014 storm that killed two people in Lincoln County. Thankfully, the students were already home. But their home away from home, their school, would not be the same.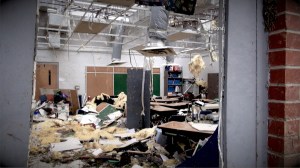 "There was debris everywhere," remembers Carman Smith, Director of Safety for Lincoln County Schools. "The classrooms looked like they had been in a blender."
8th grader Emily Brice attended South Lincoln at the time, and recalls, "It was heartbreaking." Students had been dismissed early before the storm hit, but she said looking at the damage the day after was hard.
That damage was obvious looking at the southwest hall, where the roof peeled off. It was a confirmation of what the school system had only recently discovered: "It would not have been a place you would have wanted to be on the night of the tornado," explained Smith.
But until just a few short weeks before the tornado hit South Lincoln, it had been a place students were instructed to go, a designated safe area for them. Smith said a Lincoln County EMA and National Weather Service walk-through taught them in just the nick of time that they should change their plans.
"Some of the places we had routinely placed students, now we realize, they did not have enough solid structure between them and the outside, the wall, the wind," acknowledged Smith. "Hadn't thought about the potential of debris when the gym roof went."
She said that tornado was a lesson learned, thankfully not at the cost of a child's life.
"We went back and looked at the school building and have used that situation to do current tabletop exercises," Smith explained.  "We made sure we had a bullhorn, Runners. Communication."
Since then, the part of the school that was damaged has been rebuilt. Administrators have also reformed their procedures to change where students shelter.
"If we're actually here for another one, I believe it will be safer," mentioned Brice.
Lincoln County and Fayetteville schools were recently designated as StormReady Supporters by the NWS. Smith believes that process has helped them become even more prepared for any other potential storms in the future.
Kathy Hovis, Deputy Director of Lincoln County EMA, agreed: "With what we've seen with this program, we think they're all prepared," she said.
But across the state line in Alabama, no schools in Madison County are officially designated StormReady schools. However, Alabama law does mandate new schools built after 2012 have a reinforced safe area, inspected by the state School Building Commission, to withstand high winds from tornadoes and hurricanes.
Madison County Schools Chief Operations Officer Kerry Wilkerson showed us the one at Moores Mill Intermediate School, the only building constructed after 2012 in the school system. A block of classrooms are their built-in shelter.
"Everything in this section is solid concrete, steel reinforced with concrete and steel top above this acoustic ceiling. These doors, they come in, they close down, and they have a three-point locking system," he said.
Moores Mill principal Daniel Evans chimed in, "I can get all of my kids, 700 kids, into these rooms in under two minutes."
But what about the other county schools that don't have those kind of amenities?  We asked Wilkerson what they do to keep students in those safe too.
He said safe spaces are constantly being evaluated and improvements such as replacing windows or strengthening doors are a nonstop process. "Every month, we review them in some level, in some degree, what makes them a bit safer and what we need to do to change them?" said Wilkerson. He explained that their eye-opener came in 2012 when a tornado hit Buckhorn.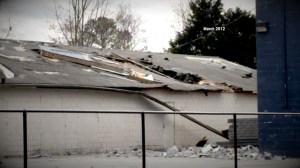 "We even see where a door was pulled off its hinges 90 feet down the hallway. That shows us how strong of a vacuum that can come through a window," said Wilkerson. "We learned a lot from it and that's the reason we scoot our kids further away from doorways, we get them around corners."
He added that they've made some other improvements in the name of communication and getting power to schools quickly in a severe weather event. "Now we have independent two-way walkie talkies that go county-wide. We can talk to each other during emergencies. We also have generators at most of the schools now, and we have several that are mobile," Wilkerson explained.
While safety isn't guaranteed, educators at each of these schools say their students are as safe as they can be. The fearful memories of tornadoes past will keep them vigilant, and reviewing procedures in the future too.
"Since this tornado, we know what can happen," said Smith.
"It changes the way we view what we're doing today for these children," said Wilkerson.
We asked Hovis to give us more tips about school safety in storms. In her list are:
Don't place students or faculty to shelter in the SW corner of the school. Locally officials have noticed that's the direction from which most storms come.
Place them in a reinforced area without windows, that has plenty of walls in between them and the outside.
Make sure it's a place that isn't open where things can fall on them when winds pick up.
In gyms and open areas like cafeterias, the roof can collapse. It's best not to hide there.
Older schools tend to have more windows than newer ones, and you'll need to be more strategic about safe spaces there.
Have a plan in place and practice, practice, practice.
"We're in tornado alley," said Daniel Evans, Principal of Moores Mill Intermediate School. "[Storm safety] is a real thing for us."
We also reached out to Madison City Schools. Here's what we found out:
Dennis James, Director of Student Services, said:
"James Clemens High School is the only school we have that was constructed after the safe areas requirement.  It has two tornado safe areas that can hold up to 2,000 students plus the staff.  At all the other schools we have areas where we move children during a weather emergency.  These are the safest areas in the buildings (interior hallways, interior classrooms, away from windows and doors, etc).  That's probably standard procedure in most every school in this area."
We also heard from Keith Ward, spokesman for Huntsville City Schools:
"When we complete new construction projects, one third of our students can access a storm shelter that can withstand an F-5 tornado.  Currently, Blossomwood Elem., Whitesburg P-8 have them.  AAA, in the remodeled Ed White campus will have one in their new state of the art theatre that will be completed this spring.  Hereford Elementary, McNair Jr. High, and Jemison High, which open in Aug. 2016, will have one.  The new Grissom High, which opens in fall semester, 2017, will have one.  And the new Morris P-8, which  will be completed the following year, in 2018, will have one."