This is an archived article and the information in the article may be outdated. Please look at the time stamp on the story to see when it was last updated.
HUNTSVILLE, Ala. (WHNT) - Many of us work hard and want to enjoy the fruits of our labor. WHNT NEWS 19 is Taking Action to make sure when you decide to splurge, you don't get ripped off. Like many people, I enjoy shopping and I definitely love a good deal.
After seeing a tempting ad on social media and a very low price, I decided to take a risk and buy a dress from an online retailer that claimed to provide high quality fashion clothing at factory direct prices.
It was only $15.79 with shipping. Nearly two months and several emails later, the dress arrived. It's flimsy material, with no lining and messy seams. This experience and a desire to protect your money is the reason for WHNT NEWS 19's special report: "Buyer Beware."
Whether it's on your smartphone, email account, or social media, advertisers are targeting you.
"Businesses can target ads to you based on the information that you put on social media and information that's about you on the internet," says Loni Cleve, WHNT NEWS 19 Digital Sales Manager.
Cleve says the pictures and ads you see on social media are not by accident.
"That's why when you go online, you will see ads that you think are taylor made for you and that's because they've pulled information," explains Cleve.
Their job is to get you to spend. Our job is to help make sure you spend wisely.
"Most of the time, it works in your favor, especially when it's local businesses,"says Cleve. "However, because you know yourself better than a computer does, if it's a business that you don't know or have not seen before, you do need to take that extra step."
Online shopping is very popular.
"I love shopping online," says Mary Richards, who lives in Huntsville and loves the convenience of buying online.
"I buy clothes online," says Richards. "I order a lot of cleaning supplies, dog food and toiletries."
Richards' closet is full of items she purchased from online retailers.
"I love dogs and so I found this dog sweater online," explains Richards. "I saw that and loved it and just ordered that. I've ordered this jacket off of QVC."
For the most part, she's been pleased with her purchases, but not always. Richards shared two of those instances with us. The first involves an iPhone case being sold at a very low price.
"We thought it was a certain brand name and it was an off brand and it broke fairly quickly," says Richards.
The second happened over the holidays.
"I normally look online see that your item has been shipped and I never got that email."
Her item never came. Getting something other than what's advertised or getting nothing at all isn't that uncommon. You can't let those good offers blind you.
"The Better Business Bureau really advises people to try to stick to the trusted websites and online marketplaces," says BBB of North Alabama President Elizabeth Garcia.
Garcia strongly urges you to follow these steps:
Research the company, including the BBB rating.
Check the website for the company address, phone number and customer reviews.
Review the shipping and return policies.
Purchase using a credit card, so if you do have a problem, you have some form of recourse to get your money back.
Use a secure site.
"You should see the letters https and you should see a locked, pad lock symbol,"
Here's an example: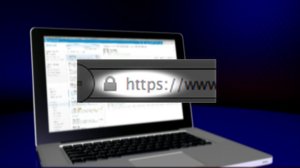 Garcia also emphasizes the importance of knowing your rights as a shopper.
"You do have the right to dispute a charge on merchandise that is defective or is not as described," says Garcia.
These steps are already part of Mary Richards' routine, plus one more important rule of thumb.
"If there's something we want, we'll look at it and give it 24 hours," explains Richards. "We'll sleep on it and see if it's something we really want to have. If we do, we go ahead and purchase it."
When you go to these websites, be attentive! Check for things like misspellings, empty links, and error pages. Those can also be red flags. Make sure you share this story on social media to make sure your friends and family members are informed too.