This is an archived article and the information in the article may be outdated. Please look at the time stamp on the story to see when it was last updated.
It's a complex issue and one many of us will face — how to help our aging parents.  Whether it's now, or five, 10 or 20 years down the road, this is something your family will experience if they haven't already.
WHNT News 19 is Taking Action for our Aging Parents — we aired special coverage the week of April 20-24.  We covered different topics daily on WHNT News 19 at 5:00 p.m. If you missed them or you'd like more information, there are links below to read and watch the reports.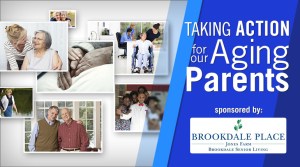 Monday, April 20: We told you the story of one man who had a difficult decision to make regarding his mother's care. It meant a big life change for him.  We also show you a class designed to decrease the risk of falling. Here's the report.
Tuesday, April 21: We talked with experts on how to start the dialogue on how the plan the last years of your parents' lives. You may think starting the conversation at a family reunion is the best time to do this, because you're all there.  One professional says that's a bad idea, though. Here's the report.
Wednesday, April 22: We talked with an elder law attorney about wills, power of attorney and various medical forms.  Some of this lingo can get confusing — we boil it down to maybe the most important thing you can have.  Here's the report.
Thursday, April 23: Helping a parent with Alzheimer's or dementia can be a scary experience. We talked with people who specialize in dementia care and helping families cope with what seems like an impossible situation.  They offer advice on what you can expect, and how to navigate this process. We also talk with a local doctor who faced some painful decisions regarding her mother's care.  Here's the report.
Friday, April 24: We shared the story of a local woman who isn't sitting still in her golden years.  She is a widow, but her children helped encourage her to stay active and she's quite an inspiration. Here's the report.
We thank our radio partners WDRM 102.1 — WHNT News 19's Greg Screws and WDRM's A.J. McCloud also discussed these topics on the air every afternoon during our special coverage week.
---
Additional resource: 
The Huntsville Madison County Council on Aging has put together this Senior Service Directory to help families find local resources for care.