This is an archived article and the information in the article may be outdated. Please look at the time stamp on the story to see when it was last updated.
HUNTSVILLE, Ala. - You may remember a couple of weeks ago, WHNT News 19 took action on the behalf of residents at the Huntsville Summit Apartments because of their faulty air conditioners. Well since that time, we've received a number of complaints from Summit residents who tell us the building is infested with bed bugs. So we went back to take action once again on the behalf of these residents, to make certain they can live in a pest free environment.
"The bed bugs are outrageous," Sharon Fairley tells us. While some of the Summit residents we've talked to say they won't speak out publicly because they're afraid of being evicted, Fairley says they don't scare her.
"It is unbelievable. I was never told at the time and I've been here now two years, this is my third set of furniture because of the conditions of this place," Fairley explains.
Fairley says they do occasionally treat an apartment or two, but she says they have yet to rid the building of the pests. In fact, she says it has only gotten worse since she's been here.
Ryan Kane says his mother is one of those afraid to speak out, so he doesn't want her identified in this story. "She bent to reach for something and the back of her shirt rose up a little bit so I went to inspect and I lift up her shirt and her back is just covered, covered in bites. I've never seen nothing like it," Kane says. He tells us furniture purchased for her apartment a year ago will now have to be thrown out because of this latest infestation.
Another resident we spoke with sent us images of her arms and legs. She says the bugs crawl all over you while you sleep, leaving their bite marks behind.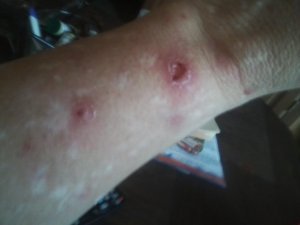 "They're all over the walls, they were down in the community room, it's, it's really bad," Fairley says.
We contacted the Madison County Health Department and they tell us because the building is privately owned, there's no enforcement action they can take regarding the bed bugs. So we're taking the complaints of the residents to the Department of Housing and Urban Development.
We did reach out to the owners of the building. Their attorney tells us the owner contracted with a local pest control company that treated the entire property in February, rechecked every unit twice in March, and has made monthly visits since then to treat for any recurrence. At this time, they tell us, there are 4 residents who have asked to be treated again.