This is an archived article and the information in the article may be outdated. Please look at the time stamp on the story to see when it was last updated.
HUNTSVILLE, Ala. (WHNT) - Young people can and are making a difference in our communities. WHNT NEWS 19 is Taking Action to Pay it Forward highlight these rising leaders each Monday at 6:30 during May. At the end of the month, you will have a chance to vote on the winning recipient.
Kaitlyn McClung is 17 years old, but already knows the importance of giving back. The young poet has participated in more than a dozen different community service projects and says it's just the norm.
A green journal holds McClung's thoughts, but it's her actions that are making a difference.
"It's best to start at a young age because then it just becomes natural," says McClung.
Serving others comes as naturally for this teenager as the words flow from her pen to paper. McClung volunteers often at the Boys and Girls Club on Redstone Arsenal.
"A young kid involved that may feel lonely can come to a game night and have some fun," explains McClung.
She's worked with other biology club members at New Century Technology High School to make activity books for children who are in the hospital, taken gift baskets to the Veterans Home and filled wishes for Angel Tree.
"When I see someone smiling in line when they're getting food, that feels really good because now they have something to eat tonight," describes McClung. "When you give something to a kid through Angel Tree , you  know that their wish might come true and they'll get the gift that they want."
While she's been recognized for her civic efforts by the city of Huntsville and as the Young Citizen of the Month by Community Awareness for Youth (C.A.F.Y.), that's not why she does it. "Just the fact that I can contribute to helping someone's life is what keeps me going," says McClung.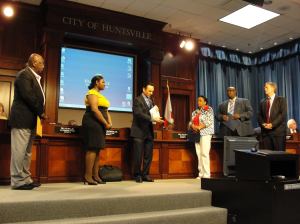 Here is the complete list of McClung's community service work:
• Toy Drive for St. Jude's
• Angel Tree
• Making gift baskets for the Veterans Home
• Operation Megaphone (Month of the Military Child Lock-in)
• Summer Camp Volunteer at School Age Services
• School PTSA
• Biology Club Volunteer/Fundraiser for various community organizations
• Keystone Club Fundraising for various community organizations
• Relay for Life
• Manna House
• Christmas Charities Year Round
• Alzheimer's Association Walk
• Huntsville Arts Council (Panoply Arts Festival)
• Whistle Stop
• Saint John A.M.E. Church (Praise Dance, Jr. Usher Board, Donation Drives)
• Huntsville City Parades (Lee High School Marching Band)
McClung is graduating this week and plans to attend Alabama A&M University. She says that at a young age when her mom was sick, her family received help from others and so she feels that it's only right to do the same now.