This is an archived article and the information in the article may be outdated. Please look at the time stamp on the story to see when it was last updated.
HUNTSVILLE, Ala. (WHNT) – Larry Vance, this week's Pay it Forward recipient, is a dedicated volunteer, who's involved in community service projects all year. Here's a portion of the nomination email from Emma Hankins:
"Larry Vance worked to purchase new suits for graduating high school seniors, called Suits for Scholars. He created the program to inspire students to give back to others when they make it in their careers."
"Growing up, I didn't have a whole lot," says Vance. "We had just enough, but I recognized that it wasn't about what I knew, it's about how I carried myself."
Vance learned the importance of giving back at an early age.
"It's important to be a role model and be an example," says Vance. "I try to instill that encouragement in kids I associate with."
At the Harris Home for Children in Huntsville, Vance visits monthly and celebrates with whomever is having a birthday.
"I get cake, ice cream, punch and we have candles," describes Vance. "We blow out the candles. I pray with them and talk with them about their lives."
That's just one way he gives back. Huntsville City Schools recently recognized him for the Suits for Scholars program. That initiative provided 35 students at six different high schools with business suits. Here is a picture of Vance with some of the student recipients.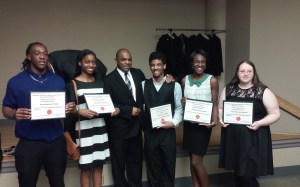 "We gave them a suit that they can take on an interview, wear to church, or if an opportunity presents itself, they could wear," explains Vance.
Opportunity, encouragement and support is what Vance strives for in all his volunteer efforts.
"I just really want to give back in some kind of creative way to make people smile," says Vance.
WHNT NEWS 19'S $319 is an added bonus. Vance is in the process of forming a 501c3 organization called, Redstone Arsenal Engineers Associates to continue his community efforts. He's also putting together a city wide revival next spring.