This is an archived article and the information in the article may be outdated. Please look at the time stamp on the story to see when it was last updated.
HUNTSVILLE, Ala. (WHNT) – Did you know September is newborn screening awareness month? Shortly after a baby is born, he or she gets a prick on the foot and it's sent off to check for all these different conditions. Well, most parents are more upset about the baby crying and being all upset and don't even think about the outcome of the screening being bad. However, one local family got some tough news a few years ago, but they are using the experience to spread awareness and help others.
Is this not a sweet picture?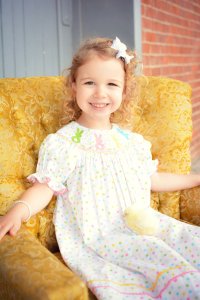 Hadley Tucker is five years old and full of smiles.
"My daughter just started kindergarten and she's doing wonderfully," describes her mom, Julie Tucker.
The Tuckers live in East Limestone County and Hadley has a rare genetic disorder. Fortunately, she also has caring and proactive parents.
"When she was diagnosed five years ago, it was devastating and we were terrified," says Tucker. "But we have taken it and just tried to do the best we can with it with her diet and try to help other families along the way."
Julie Tucker is the President of the Alabama PKU Foundation, which was created in 2015.
"PKU basically means that the child can't process protein correctly, so the treatment is a very low protein diet and a medical formula," explains Tucker.
Their inspirations are young kids in our state that are among a small group dealing with this condition. One in 15,000 kids have it in the United States. Tucker believes each one deserves support and access to important resources. That passion led her to the state capitol in Montgomery.
"We actually got to travel to Montgomery and meet Governor Robert Bentley and witness him signing the awareness proclamation so that was a really special moment and a big milestone for PKU in Alabama," says Tucker.
Another special moment that Tucker didn't see coming was a Pay it Forward surprise of $319.
"Thank you so much," says Tucker. "This is wonderful! Thank you!"
PKU is an expensive condition to treat. The special formula kids with PKU use costs between $40 and $80 a can. At age 5, Tucker says that only lasts her daughter Hadley four days and she will need more as she gets older. According to Tucker, most insurance coverage in Alabama is not good, so among other things, they're trying to improve that.