This is an archived article and the information in the article may be outdated. Please look at the time stamp on the story to see when it was last updated.
HUNTSVILLE, Ala. (WHNT)- Casey Clark considers himself a coin collector. But recently he was looking at a coin his grandfather gave him almost ten years ago, and saw something new.
"I just happened to look down and I was like, 'Wow, there's something engraved there!'" he said.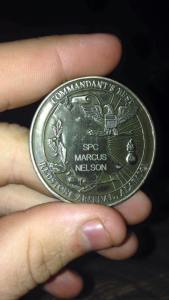 The coin has "SPC Marcus Nelson" written on one side, and "US Army Ordnance Missile and Munitions Center and School" written on the other.
Clark has been trying to find the owner, with no luck. So he reached out to WHNT News 19, and we took action.
We took it to SFC Jerry Bohanon, Jr. who has a collection of his own. He says it's a challenge coin, something that's given as a token to reward soldiers who do an outstanding job.
"It's kind of like an 'atta boy' type of thing," he said. "I take it as an award. But I would be upset if I lost one."
"I want to get to [Nelson] and say, 'Hey, you're not forgotten,'" explained Clark. "This may not be an important piece, it may not be a Medal of Honor, but it's got your name on it and it's got US Army on it. And I want to make sure it goes back to where it belongs.
Clark has already posted on his own Facebook page, hoping to get some shares. He has friends who have shared it across the country already, but so far, no luck locating SPC Nelson. But he may have a lead. We got to work and found a possible connection between SPC Nelson and a Huntsville apartment complex.
"I think he definitely, probably didn't leave this behind on purpose," suspects Clark.
WHNT News 19 also reached out to the Army's Human Resources Command. A public affairs officer tells us there are 12 people named Marcus Nelson who worked at Redstone Arsenal during the time the Ordnance Missile and Munitions Center and School was there, before it was moved to Ft. Lee.  The officer is working to help us narrow that down.
As we dig deeper into this mystery, Casey hopes you'll share the link to this story or, if you see his Facebook post on your news feed, to do the same there.
"Maybe somebody out there knows this person," he said.
Please email kristen.conner@whnt.com if you have any connection to SPC Nelson, or know how Clark can get in contact with him. WHNT News 19 is continuing to take action to find him and reunite Nelson with his long-lost coin.