This is an archived article and the information in the article may be outdated. Please look at the time stamp on the story to see when it was last updated.
HUNTSVILLE, Ala - Yet another scam to tell you about. This one comes in an email and targets people who are looking for a job. WHNT News 19 is Taking Action to expose these thieves.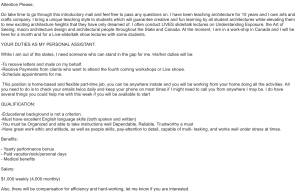 Normally this type of email gets caught in the spam filter, but somehow this one made it through. The email said it was from Anderson Marcus and he wanted to send more information about "the proposal." We sent him the phone number for the local FBI office and deleted the mail. But he emailed back, almost immediately, with an offer of a job as his personal assistant. Knowing it was a scam, we decided to see what he was up to, and after just 2 or 3 more emails, WHNT News 19's Al Whitaker was Anderson's new Personal Assistant.
He said Al would be receiving a check soon that he should deposit in his personal bank account, keeping his first week's pay of $1,000, and send rest of it back to him. Well, of course, that was the scam. The check he was sending would be worthless.
Sure enough, a package arrived a few days later and we took it to Redstone Federal Credit Union for their security and fraud team to open.
Brian Smith had the honor of ripping the envelope open. "Nice of them to send it Priority Express," Brian noted.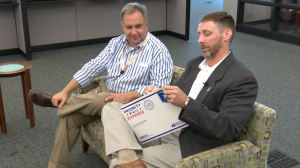 Inside was a check for $4,000 made out to Al. Both Brian and RFCU Vice President Fred Trusty said it looked pretty good, but there were some issues.
"The business and the bank are in two different states, two different locations, so that's kind of a red flag the tellers would be looking for if they were to receive this," Brian observed.
There were several other red flags they noticed right away, but we don't need to mention them all. Point being, the check was bogus.
"This is going to come back a counterfeit item in a few days as it gets returned through the FED, and if you had sent out the funds as a wire then they'd be gone," Brian says.
And Al would be left owing the bank the full amount of the check.
Anderson was pretty anxious for us to send him the money. We got a lot of calls and text messages from him before we finally decided it was time to shut it down.
Recording the call, Al asked, "What would you like for me to do with all of this money of yours?"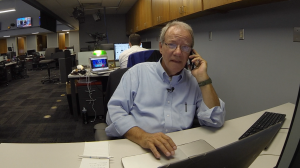 The person on the other end of the line, who claimed to be Anderson Marcus, in very broken English, said, "Ok, I'm going to give you, send you a Bank of America name and address, uh, bank account number. Then you deposit the money, at Bank of America, (unintelligible) deposit please. Okay?" It was pointless to try to challenge the person on the legality of what he was doing.
While most people would realize this is a scam, some wouldn't. Before you send anyone money for something you're unsure of, just ask your bank.
"You can contact Redstone or you can contact any of your financial institutions, and work with them and say hey, I have a question. This seems to be too good to be true. Can you help me? Guide me the right way, and Redstone or any financial institution will help you, if you're a member or not," Trusty says.
Remember, if any deal or offer sounds too good to be true, it probably is.
By the way, we've contacted the company named on the check. They are not involved in the scam in any way and are now conducting their own investigation.