This is an archived article and the information in the article may be outdated. Please look at the time stamp on the story to see when it was last updated.
Data is like a filing cabinet of your life secrets, and cyber thieves are out to get it.
Jennifer VanderWier, Vice President of F1 Solutions Inc., of Huntsville says it's time for people to understand their data is exactly what the bad guys are after.
"Most people say, well they don't want my data," said VanderWier. "But yes, they want yours and 45 million other pieces of data and they can take those pieces of data and sell them as groups, and make millions and millions and millions of dollars."
But it's what happens next that opens the door for criminals. VanderWier said repurposing computer equipment and phones must be thought through.
"People think, I want to repurpose it, I want to give it to a charitable organization, I want to give it to my son, or I just want to put it on eBay or Craigslist and sell it. Consumers think, well if I just go through and do a regular wipe, well that should be fine. The problem is, it's not," VanderWier said.
The reality is, those files are not deleted and the data it contained still remains on the hard drive or storage card.
WHNT News 19 went shopping for used electronics to see what kind of data consumers would unknowingly leave behind.  F1 Solutions assisted us with some "white hat" investigative hacking.  What they discovered shocked even them.
On two of the laptops that WHNT News 19 bought, we discovered tons of sensitive data. That included a user with an extensive resume in the military and defense.
We found discharge papers, employment applications, medical history and even tax forms. Not to mention hundreds of military and family photos.
It's likely the seller thought he had deleted the files, however it can be surprisingly easy to pull sensitive data off laptops and phones that are thought to be secure.
The user, whose identity is shielded for this story, is lucky WHNT News 19 got their hands on the data and not the bad guys. We crushed all of the hard drives with sensitive information.
So what should consumers do?
"You need to open that file cabinet, clear everything out, scrub it, scour it then you can hand it over," said VanderWier.
That means encrypting your computer or smart phone, or wiping it seven times.
And of you don't have the know-how to do that, and most of us don't, F1 Solutions says the decision is easy. "Crush it and get a new one!"
Secure Destruction Services of Huntsville offers hard drive crushing.  To reach them, call 256-534-5130.
You can also wait for Shred Day with our BBB of North Alabama.  This event offers free hard drive crushing, along with paper shredding.  The next opportunity is April 18th at the U.S. Space & Rocket Center.
Tips from the F1 Experts:
How to Wipe your Windows hard drive
How to Wipe a hard drive on your Mac
How to Encrypt your hard drive (Windows XP, Vista, & Windows 7)
How to Encrypt your hard drive (Mac OSX)
And don't forget, password protection is still key, but it needs to be rethought into a Pass Phrase.  Generating a Pass Phrase can be done in many different ways. You could use visual mnemonics where you take a random picture that you found either around the house or on the Internet. Looking at that image, come up with at least three words to describe it.
An example here is a picture of a Halloween display.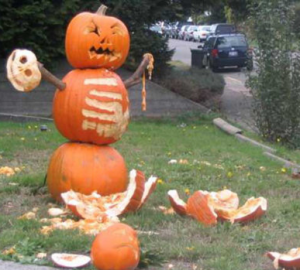 If you take three or four elements from the picture, you could possibly infer the phrase "Raging Pumpkin Massacre."
Every time you see that picture now, you will  instantly remember the "Raging Pumpkin Massacre."  This is because of how your mind relates memory to visual cues.
Your brain creates a space to store your created phrase within the visual cue of the picture. Literally, every time you see that picture, your brain will relate it to the context and the password you created using it, but only for yourself since you created it.
For anyone else, it's just a funny Halloween picture. In the case of systems that require special characters or numbers, all that is needed is a simple modification to the phrase our phrase. In the case of "Raging Pumpkin Massacre" you could add a number punctuation: "Raging Pumpkin Massacre 911."