This is an archived article and the information in the article may be outdated. Please look at the time stamp on the story to see when it was last updated.
VALLEY HEAD, Ala. (WHNT)– Severe weather can happen at any time in the Tennessee Valley, but community storm shelters are not open around the clock.
A DeKalb County woman and her family found that out the hard way during severe weather Friday night.
WATCH: Radar animation shows EF-1 tornado touchdown along County Road 776 near Cartersville
Counties across the Tennessee Valley have certain policies in place which determine when shelters are opened. You should never assume the community shelter nearest you is going to be open just because severe weather has been in the forecast.
The Community Tornado Shelter Operations and Maintenance Plan in DeKalb County states that shelters will not be opened during severe thunderstorm watches and warnings. The policy does state that shelters are opened when tornado watches or warnings are issued.
Friday night was somewhat of an outlier scenario– a tornado warning was issued for part of DeKalb County, but since the county had not been previously placed under a tornado watch, the shelter was not opened.
There does seem to be room for improvement in the plan, or at least clarification.
Valley Head Mayor Scott Gifford admits, "We're in the process of working out bugs and establishing policy." The community storm shelter located on Alabama Highway 117 across from the city park was completed in April 2014, and has only been used three times. Gifford says he and the community want to learn from Friday, and he says he feels blessed no one was hurt during the severe weather.
The town is also working on developing a better communication system to let people know when shelters are open.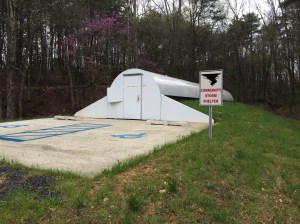 Mayor Gifford also says they are "in the process right now of trying to get some more responsible key holders that we can depend on." Gifford says in a standard tornado situation, he would like it to only take about five minutes for the shelter to be unlocked and opened following the issuance of a tornado watch or warning.
Community tornado shelters cannot remain unlocked at all times because "with any public facility there are security issues and vandalism," says the mayor.
It is also standard practice for many community shelters to not allow pets or weapons.
We always stress the importance of having a severe weather plan in place well in advance of severe weather. Make the important decisions during times of quiet weather, so you'll have more time to react when severe weather hits. Call your county emergency management office if you have further questions. Understand that other counties' policies may differ from the one used in DeKalb County.