This is an archived article and the information in the article may be outdated. Please look at the time stamp on the story to see when it was last updated.
HUNTSVILLE, Ala. – It's a given: during rush hour, you're going to hit a little traffic somewhere. Many try to avoid it by getting to their destination earlier– but in one trouble spot, it seems no matter how early you show up, you're going to be waiting a while.
"I work at the airport and this is my daily commute. Typically takes me, with no traffic, about 15 minutes to get to work," said Anthony Bekken.
For Bekken, though, there is never "no traffic" leading in any direction towards Martin Road's intersection. The city may pride itself on a 15-minute commute, but: "Clearly not here," said Bekken.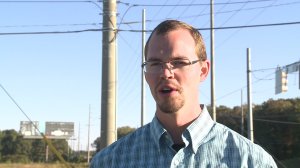 In fact, both Bekken and I were late for our interview because it took 30 minutes to get from I-565 to the Martin Road intersection before 8 a.m. "In some instances I've seen traffic road backed up to two miles on Martin Road west," he said.
It's frustrating for anyone. "And what's even more frustrating is right next to the current road is a perfectly well-paved road, that's been completed for months, but no progress on completion," said Bekken.
He's searched online for progress updates or even a tentative end date, neither of which he says he can find on the city's website. Bekken isn't asking for the road to be opened overnight, he's just asking for the people to be kept in the loop for when this is going to end. "Everybody is just wondering, why aren't these done and will when they be done?"
WHNT News 19 reached out to the City of Huntsville, who says the project is moving forward on schedule. They tell us road projects of this magnitude are completed in a series of contracts, and they are waiting for a Corps of Engineers permit to cross Lady Ann Lake on the northbound lane project on Zierdt Road. The southbound lanes are scheduled to bid next summer.
If you'd like to keep up to date with the latest on road projects in Huntsville, go to Huntsvillempo.org.