This is an archived article and the information in the article may be outdated. Please look at the time stamp on the story to see when it was last updated.
Huntsville, AL-- For three days, August 7,8, and 9, Huntsville's Von Braun Center was a very busy place.
The 21st annual Space and Missile Defense Symposium brought in thousands of members, of industry, the military and the government.
"It's the only symposium in the world that focuses exclusively on space and missile defense," said Bob McCaleb from Northrop Grumman in Huntsville.
He wasn't wrong about the symposium. It certainly was focused, but not on what's happening right now, except as a reminder.  The focus is on what our possible adversaries might have planned for the years to come.
"It's for the future, and there are so many things that are in the works," said Jim Rogers from Lockheed Martin in Huntsville,
The things Jim was alluding to would make our current systems more effective.  The also focus on things that aren't deployed, and in many cases not close to being out of testing. The kind of things that the new Under Secretary of Defense for Research and Engineering thinks about every day.
"We're in charge of all the stuff we're not yet buying. All the things we're already buying belong somewhere else in the Pentagon, and I have custody of what the future looks like," said Mike Griffin.
It's a future where current systems are likely to either be upgraded or aided, by better early warning sensors. Thinking about the future is certainly a good thing, but the present is certainly still on everyone's mind.  Griffin answered a question about that by quoting the man in Charge of the U.S. Strategic Command, General John Hyten.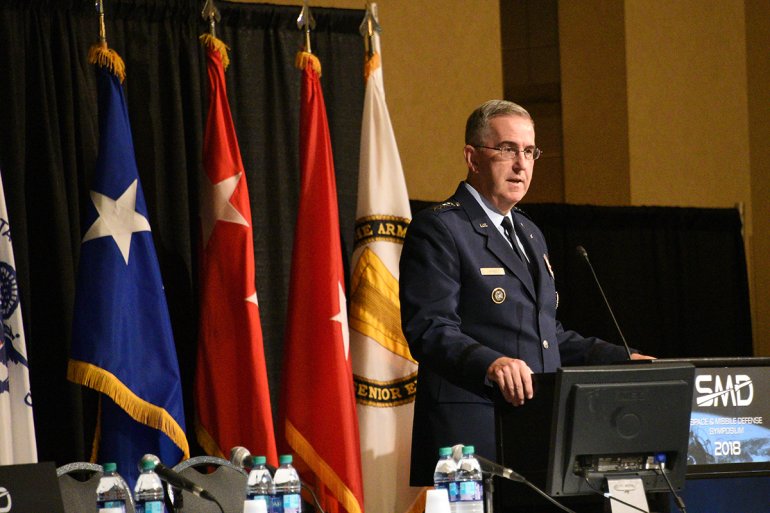 "We are in good shape today. We have the most powerful military force in the world today by far. We can handle any threat today," quoted Griffin.
He went on to add another quote from the General.
"The question is, that people at this symposium must answer, and the things on which we must work, are how do we make sure that statement remains true in the future," said Griffin.
That latter question gives everyone at the symposium a definite job, but there was one more question for the Under Secretary.  Can we do what it takes to stay the world's most powerful military?
"Absolutely," said Mike Griffin, "That's my job."