This is an archived article and the information in the article may be outdated. Please look at the time stamp on the story to see when it was last updated.
The Trudeau Vegetable Steamer costs $9.99. The packaging has a plate of what appears to be steamed veggies on it.
The steamer looks like a weird battle ship in a sci-fi movie.
The premise is- you cut the veggies and dump them in the steamer. There is a latch at the top that allows you to "bundle" the veggies in the steamer.
You fill a pot with water and then put the veggies in the pot.
But here is the odd part. The packaging shows the steamer actually in the pot. But the packaging says …"For efficient steaming water should not touch the bottom of the steamer."
So, you have to sorta/kinda put the Trudeau Veggie Steamer half in and half out of the pot. Remember that you are doing this with boiling water.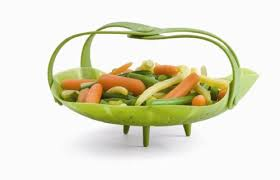 This product just didn't work like I hoped.   I steamed a batch of veggies for 30 minutes and they really didn't get done.
The microwave is quicker and safer. We rated it a "Dud."
If you have this product and like it, let me know. I will update this story with your experience.