This is an archived article and the information in the article may be outdated. Please look at the time stamp on the story to see when it was last updated.
There are a thousand "floats" on the market for water sports recreation.  Some are cheap. Some are expensive. And some are pretty smart and make me wish I had thought of them first.
The Spring Float by Swim Wave cost $17.99 and is float with a mesh bottom. The inflatable part goes completely around the float. The headrest is large and also has to be inflated.
The smart part of the Spring Float is the mesh center which you actually lay on in the pool. The mesh "middle" allows water from the pool or lake come in contact with your body, and keeps you cool!   You sort of sink a little into the water. You are lower in the water than a normal float, but that keeps you cooler in the brutal summer heat.   That is a big plus in the Alabama heat which feels like 130 on some days.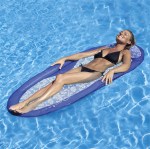 I recruited two teenagers to help me test the Spring Float.    Emma and Kelsey tried it out for me. They did discover that if not probably inflated, the Spring Float will roll over on you and form a little cocoon. It's not a danger, but you will just feel "covered" up by the Spring Float if it's not inflated properly.
We loved it, and make the Spring Float a DEAL!