This is an archived article and the information in the article may be outdated. Please look at the time stamp on the story to see when it was last updated.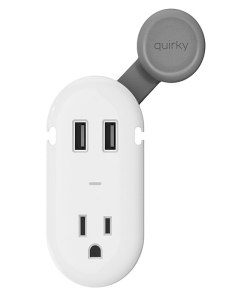 We're always, it seems, looking for places to charge phones and tablets.   Much of life revolves around finding a place to charge a phone.
Now, an odd device finds itself on the market called the "Quirky Contort Power."
And quirky it is.
A man Emad Yahia invented it and a company called Quirky built it.
The premise is that you plug it into the wall. There is an AC plug on the Quirky Contort Power that replaces the plug you use. But the Quirky Contort Power is offset so you can still use the other outlet.
On top of the Quirky Contort Power, you have two USB ports that allow you to charges phones or tablets.
Despite the pricey cost of $24.99, we liked it.  It's a thick, sturdy, piece that seems to hold up really well.
The Quirky Contort Power is a Deal.