This is an archived article and the information in the article may be outdated. Please look at the time stamp on the story to see when it was last updated.
HUNTSVILLE, Ala. – The world can be a dangerous place for children. It seems there are hazards everywhere and the risks change depending on the age of the child.
Child Safety
During infancy, one of the greatest risks comes from Sudden Infant Death Syndrome, the leading cause of death for babies up to one year of age. Doctors still aren't sure what causes SIDS but they do know the best method of prevention.
"They found that it's preventative for SIDS when babies sleep on their backs, not putting them on their tummies," says Beth Jackson of the National Children's Advocacy Center.
There are a few other things Jackson wants parents of infants to know, starting with "never, ever shake."
"Those little heads are so delicate," she says, adding, "if you need a break, go get a break but never, ever shake a child."
Once children can crawl, it's time to get down to the business of child-proofing.
"Literally, get down on your hands and knees," Jackson says.
Looking at your home from your child's perspective will help you spot dangers — such as a loose cord or unsecured cabinet — that you might otherwise miss.
On the road, a properly installed car seat is essential. However, research shows the vast majority of children's safety seats are not installed correctly. A professional inspection can ensure your child is protected.  Most are free.  But, it must be the right seat for the right age and size of the child.
"Things have really changed over the last several years in that they need to be in car seats, even the booster seat until they're over 60 pounds," said Jackson.
When it comes outside caregivers – whether it's a daycare or a summer camp – Jackson urges parents to ask questions.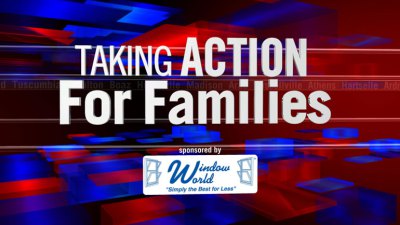 "Where do they find their employees? What kinds of background checks and reference checks and things like that are required? Do they require experience? What's the ratio of adults to children? All of those things are very, very important," she says.
Also important, a safe, prepared babysitter. Ideally, babysitters should know emergency procedures and have gone through some sort of specialized training, such as a safe sitter class.
Importance of Healthy Sexuality Education
When it comes to guarding against sexual predators, the experts at the National Children's Advocacy Center stress the importance of healthy sexuality education, appropriate to your child's age.
For example, even children as young as 2 can grasp the difference between good (wanted) and bad (unwanted) touch, making them much harder to manipulate.
The same goes for good secrets and bad secrets.
As Jackson explains, "if somebody is telling them to keep a secret, well, what is that secret like? Is that secret a secret that makes them feel weird or go uh-oh, or somebody is being hurt? That's a bad secret, come tell mommy and daddy."
She also encourages parents to teach their children the correct terms for the private parts.
"Research just shows that, for a myriad of things, child sexual abuse prevention, exploitation prevention, even teen pregnancy, that healthy sexuality information for kids is a protective factor," she says.
Teen Safety
As children age, the dangers they face may not be as tangible but they're just as real.
While the statistics show victimization rates are not rising due to social media, Jackson acknowledges there is reason for caution.
She encourages parents to teach their children that anything posted online is public and permanent. They should also be aware of the risks of communicating with people they don't know.
As for bullies, whether online or in real life, Jackson says – at least initially – parents should give their children a chance to deal with the problem on their own.
"They don't want to be known as the tattletale, as the younger child or the snitch, as the older child.  So, talking about things like ignoring bullies, don't respond, being assertive and practicing being assertive, if it's safe to do so. But, if they are afraid physically… do get adults involved right away."
Speaking of practice, experts say role-playing with your children is one of the best ways to prepare them for just about any situation.
Example: A friend who's been drinking wants your teen to get in his car? What will your child say?
Or: Your teen is at a party and there are drugs. How will he or she respond?
And remember, this is no time for generalities. You should help your teen come up with specific answers or actions.
Below, you'll find links to more information about specific topics that may be helpful:
On Friday, July 17, we'll wrap up our special series 'Taking Action for Families' with tips on managing parental stress. The report will air on WHNT News 19 at 5:00 p.m.
If you'd like to continue learning more about parenting, the NCAC offers classes to moms and dads in Madison County. The program is six weeks long and is held every two months throughout the year. Click
here
 for more information.