This is an archived article and the information in the article may be outdated. Please look at the time stamp on the story to see when it was last updated.
Tennessee Valley, Ala. (WHNT) – On April 27th, an EF-4 tornado ripped homes from their foundations outside Little Rock, Arkansas.
When the National Weather Service surveyed the damage, it discovered anchor bolts were not used in many places or they weren't properly installed.
Soon after, the picture below went viral.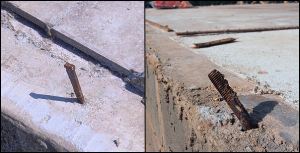 This prompted us to check into the requirements in Alabama. WHNT News 19 is taking action to keep you safe when severe weather strikes.
"The reason for the anchor bolts are to ensure that the house doesn`t shift, move or have an uplift with strong winds," said city of Huntsville inspector Bruce Owens. "It doesn`t guarantee you the house is not going to get blown away, if a storm is strong enough, but it does give you a good insurance that they`ve done the very best they can to hold it down."
Alabama adopted a statewide building code in 2012.
It requires the exterior walls to be anchored to the foundation.
Builders typically use bolts that are a half-inch in diameter and ten inches long.
"When they pour the concrete slab, they`re basically going to anchor the anchor bolts and embed them in the concrete around the perimeter of the house, no more than six foot spacing to help ensure the framing is tied down with the foundation," said Stoneridge Homes construction manager Caleb McWhorter.
"It goes into the concrete and you need seven inches minimum in the concrete and the remainder goes up through the plate," said Owens.
"Basically your framing, your bottom plate for your walls is going to be placed over the anchor bolt with a hole drilled in that slides over the top of the anchor bolt and then a nut and a washer are tightened down, wrench tight, to ensure that the framing is solidified with the foundation," said McWhorter.
Most major cities in Alabama have their own inspection departments to enforce the building code.
However most counties in North Alabama do not have building inspectors to make sure that all new construction is to code.
If you are building a new home, you should hire your own inspector to protect your investment and your loved ones.
"If you're in a county that has no inspections, I would recommend hiring a private inspector or private engineering firm to look at it for you," said Owens.
With the current anchor bolt requirements, homes are supposed to withstand winds up to 90 miles per hour, which would be rated an EF-1 tornado.
There are additional measures that can be taken to make your home even stronger.
William Payne has been a structural engineer for nearly four decades.
He says you could request the anchor bolts to be no further than four feet apart, which is common in earthquake-prone areas.
He also suggests the use of structural straps, common in hurricane-prone areas.
"Those straps do hold from the first floor framing up to the roof framing, which helps hold it in place," said Payne, "and if you can hold the house in place, then the framing doesn`t become a missile to hit the house next to it."
Most homes that are more than 30 years old do not have anchor bolts, but Payne says there are still ways to anchor the house to the foundation.
"One of the easiest ways is to simply, on the masonry block, fill the block with concrete and put something in the side that comes out, up and on top of the wood framing and then you can tighten it down," said Payne. "Sometimes you can drill from the bottom up and come through and stick it in and then mortar it in place."
WHNT News 19 took action and called the Alabama Energy and Residential Codes Board.
We want to find out how we can better enforce building codes in locations without inspectors.
The board is looking into our request and we will be sure to update you on the findings.