This is an archived article and the information in the article may be outdated. Please look at the time stamp on the story to see when it was last updated.
The brash, unfiltered preacher's kid from Johnson City, Tenn., is the most important coach in Southeastern Conference history.
Now, I didn't say the greatest. Or the winningest. Or the smartest.
But Steve Spurrier was the league's most important, influential coach.
Spurrier didn't just turn around the moribund programs at Florida and South Carolina. He turned around the program at Tennessee. He made Georgia better. He made Alabama and Auburn better.
He made Saturdays better.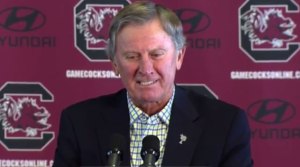 When Spurrier came to Florida for the 1990 season, he joined a league dominated by a philosophy of playing not to lose. It had been I-formations and wishbones, run the ball, punt and let the defense stop the other guys.
Spurrier played to win. His teams threw the football around. He seemingly drew up plays in the dirt. He gambled. He was imaginative. He was fun. He changed the status quo.
Then, to keep up with Florida's rise, everybody else had to catch up. The obsession to beat Spurrier's Florida teams may well have resulted in Tennessee's own national championship, having to invest to elevate its program.
On Tuesday, it sounded as if Spurrier was firing himself, not merely resigning. (He stressed he wasn't retiring.) Ironic thing. Steve Spurrier couldn't keep up with Steve Spurrier and what he had established.
"Somehow we've slid and it's my fault," he said. "It's time for me to get out of the way and let somebody else have a go at it."
He said that "it's the best thing for South Carolina football."
He said he'd now be the "Former Head Ball Coach."
It's sad he's going out this way, with South Carolina 0-4 in the league. But college football is cruel to its aging legends. Bobby Bowden went out kicking and screaming, trying to keep his job. Joe Paterno had wins stripped and was accused of harboring a pedophile. Bear Bryant needed coaching, it seemed, just to keep breathing. Woody Hayes is remembered for punching an opposing player.
It's easy to turn Spurrier into a caricature. This may be the deepest you'll dive into a Spurrier eulogy without finding the word "visor."
He could have been coaching's first great Twitterer. Think of all those ingenuous, needle-sharp lines poking holes in opponents, all 140 characters or fewer.
"Can't spell Citrus Bowl without UT."
"FSU stands for Free Shoes U."
"I've coached (at Neyland Stadium) more than some of their head coaches."
No man has been a greater success as both a player and head coach – his old Tennessee foe Johnny Majors may be second on that list – having won a Heisman Trophy and a national title, something nobody else has done.
He won 228 games as a college coach, went to 21 bowl games, won seven conference championships and a national championship.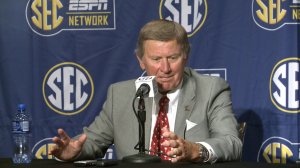 But as Spurrier's career is recalled, it is his persona, not his record, that is most vivid. He was entertaining. He was outspoken. He was funny. He was quotable. Go to an SEC Media Days, the lobby is full of reporters mingling and killing time when your basic Dan Mullen is on stage. Come Spurrier's time, it's standing-room only in the ballroom.
"He's always just been himself, and he's a winner," Clemson coach Dabo Swinney told reporters.
"The Godfather of CFB," Tommy Tuberville tweeted.
Spurrier never really fit with the generation that preceded him, the one that he shook up. And he sure doesn't fit with the current SEC generation of dour, humorless cyborgs who apparently ration their modest amounts of personality for use in the living rooms of recruits.
Steve Spurrier was one of a kind.
And we're all better for having had him around.