This is an archived article and the information in the article may be outdated. Please look at the time stamp on the story to see when it was last updated.
TALLADEGA, Ala.  – It was NASA meets NASCAR, rocket science and racing, and with the marriage a magical barrier was conquered.
The memorable, sleek, sexy winged stock cars of the 1970s are part of the celebration today at Talladega Superspeedway, and special tribute is being paid to the late Buddy Baker, a four-time winner at this speedway.
It was Baker, who died of cancer in August at age 74, who was the first driver to record a 200-mph-plus lap on a closed course. That happened here on March 20, 1974.
What many people don't know, the car was engineered, tested and launched from Huntsville.
Before it took to Talladega's high banks, it registered mile after mile after mile speeding up and down the tarmac of the deserted runway at the old Huntsville airport.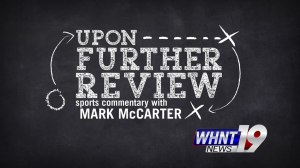 A number of Huntsville-based Chrysler engineers were working on an aerospace project, but when the NASA contract expired, they urged Chrysler to utilize some of the space technology for on-board instrumentation to test cars.
"It wasn't a linear transfer from rockets to race cars," said Don Carroll, one of the engineers, when I interviewed him a few years ago. But many of the principles and tools were common between the two.
Carroll was on a team that included Bill Wright, Harry Miller, Jim Vaughn, Ron Killen and others, along with two mechanics imported from Detroit, Larry Knowlton and Fred Schrandt. George Wallace, coordinator of Chrysler's Special Vehicles Group, was part of the team as well.  Wallace would even ride backwards in the passenger seat to collect data.
"I got to be honest with you," Baker told him. "You're nuts. If I had a choice, I wouldn't ride with my ownself, much less turned around backwards, reading instruments."
The blue Dodge Charger was built by Nichels Engineering in Indiana, where all Chrysler race cars were constructed, and trucked to Huntsville in an unmarked rig. There was much secrecy and Chrysler poohbahs tried to low-key Huntsville's role, trying to save face for the company headquarters in Detroit.
Ironically, the mechanical work on the Dodge was done in a downtown garage, long-since demolished, that was leased from Ford dealer Woody Anderson.
After all the testing in Huntsville, it was time to head to Talladega.
Officially, it was merely supposed to be a transmission test. But as Baker said, "It was in the back of their minds" to attack the 200-mph barrier.
Said Carroll, "Chrysler wanted it and (NASCAR president) Bill France wanted it."
The 200-mph mark was nothing new to Baker. He was a frequent test driver for Chrysler and he had often gone that fast on a five-mile test track in Michigan.
In the early afternoon, he was running in the 190s, "shaking the thing down," as Baker said.
On the 30th lap of the day, just before 5 p.m., he registered a 200.096-mph lap; later, he improved to 200.447. Somebody joked, "Let's go for 300." Baker said, "Let's put it on the truck."
Some drivers – and manufacturers – resented the attention and claimed they had long ago topped 200 mph at Talladega. But those were unofficial laps.
As Baker once told me, "There's a lot of people say they climbed Mt. Everest on the backside and nobody saw it. To be the first 'official' (lap), that's what matters to me."
"There's only one first," Carroll said. "There won't be another one. Any time you write the history books, you have to say Buddy Baker drove 200 miles an hour in a Dodge."
Elzie Wylie Baker, Jr., who died August 10 after being diagnosed with inoperable lung cancer, was one of NASCAR's great John Wayne figures. He was tall, strong and heroic. He crammed a 6-foot-5 frame into the cockpit of a stock car for more 700 races and was a willing test driver, a dangerous role when things weren't nearly as safe.
Baker, a nominee for the NASCAR Hall of Fame, won only 19 races. By all rights, he should have won more. But he was tough on equipment that is nowhere as durable as it is now.
He was the 1980 Daytona 500 winner, but won himself a bunch of "Daytona 475s," he used to say, for all the times his cars came up lame just before the finish.
"My purpose in life," Baker once said, "was to run 100 percent. Maybe it cost me some races, but nobody ever hired me to ride."
"Buddy was always wide open and that's the way he raced and lived his life. He was always full of energy," Richard Petty said. "He was a person you wanted to be around because he always made you feel better."
A younger generation of NASCAR fans remember him as much as a broadcaster as a driver, one of the first to make a smooth transition from the driver's seat into the TV booth.
"Many of today's fans may know Buddy Baker as one of the greatest storytellers in the sport's history, a unique skill that endeared him to millions," NASCAR chairman Brian France said in a statement upon Baker's death. "But those who witnessed his racing talent recognized Buddy as a fast and fierce competitor, setting speed records and winning on NASCAR's biggest stages. It is that dual role that made Buddy an absolute treasure who will be missed dearly."
Indeed, he flourished on those big stages. He was the first driver to win at each of the "Big Four" tracks, winning at Daytona, Darlington, Charlotte and Talladega.
Baker swept the 1975 Talladega races, then won again in 1976 and 1980.
Years after that, we were in a driver's lounge in the 'Dega infield as he returned to test still another car, well into his "retirement." He sat on an aluminum folding chair, his blue firesuit unzipped halfway down his chest. He was helping coach a young NASCAR driver as well as testing the car.
He laughed that he had become in his mature years "a professional know-what-not-to-do guy."
We talked about the 200 mph day and I asked him what he thought the first time he ever saw Talladega. His answer was perfectly simple:
"Well," he said, "they finally built a track for me."