This is an archived article and the information in the article may be outdated. Please look at the time stamp on the story to see when it was last updated.
Random thoughts on Alabama, quarterbacks, ex-Alabama quarterbacks, quarterbacks from Alabama.
——
Folks in my business never cease to amuse and amaze me. Somebody came up with this the other day, to accompany A.J. McCarron's debut as Cincinnati's starting quarterback: No former Alabama QB has won an NFL game as a starter since Jeff Rutledge in 1987. That went viral like a cute cat video.
The last Alabama QB to win an NFL game was Jeff Rutledge in 1987.
Since then, they're 0-13. AJ McCarron, you're up. pic.twitter.com/E2P2RrZAGT

— NFL on ESPN (@ESPNNFL) December 15, 2015
#Bengals A.J. McCarron heaves it deep to A.J. Green who slips a tackle, scores the touchdown pic.twitter.com/g6rhVHEeS0

— The Sports Daily (@SportsDailyBlog) December 13, 2015
Maybe it's interesting, but it's irrelevant. It's as if someone was reaching to denigrate the program.
ESPN's "Mike & Mike" spun that arcane item to point out the dearth of former SEC quarterbacks succeeding. Somebody's not been paying attention.
This is a relative heyday for SEC QBs in the NFL: Cam Newton, en route to an MVP award. Eli Manning. Peyton Manning, even though he's gimpy now. Matthew Stafford. Jay Cutler. In 1997, before Peyton entered the league, there was only one NFL starting quarterback from the SEC.
On another former quarterback from this state, and Saturday's Heisman Trophy broadcast.
——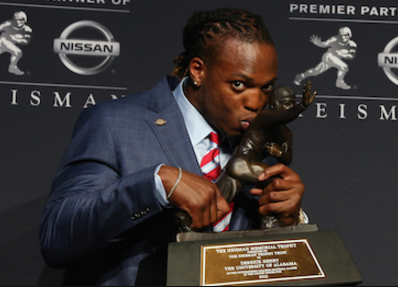 Happily, I missed the marathon telecast leading up to the well-deserved coronation of Derrick Henry.
It reminded me of a story Pat Sullivan once told me in an interview. He was the Heisman Trophy favorite in 1971, but in those days the candidates didn't go to New York for the announcement. Instead, the winner would later attend a banquet.
Sullivan was all set to watch the Heisman announcement at his apartment, but his TV went on the fritz. Because he had guests watching with him, he had to scramble around and rented a room at the Heart of Auburn hotel so he could watch the telecast.
——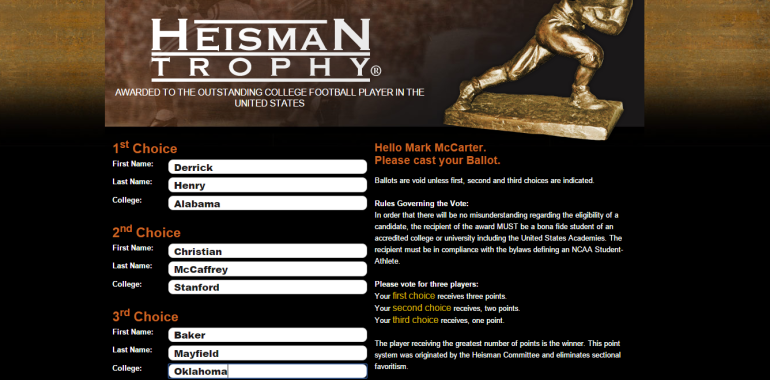 For the record, my Heisman Trophy ballot:
Derrick Henry
Christian McCaffrey
Baker Mayfield
McCaffrey is more dynamic and more versatile. But Henry is more devastating. They both generated great numbers against the best competition. McCaffrey had more all-purpose yards, Henry more TDs. In the end, in a tough decision, devastating topped dynamic.
——-
It's been more than a quarter-century since the same state won football championships at the highest level (Georgia Tech and Georgia Southern, in 1990).
Alabama is poised to make that happen. Not only is the Crimson Tide the presumptive favorite for the FBS title, but Jacksonville State is the top seed in the Football Championship Series playoffs and is 2-0 going into the semifinals Saturday in Jacksonville against Sam Houston State.
The Gamecocks are legit. The scare they threw into Auburn was not a fluke. Eli Jenkins is a first-class QB and its offensive line looks like it oughta be in the NFC North.
——
Still trying to wrap my head around South Carolina's hiring of Will Muschamp. He couldn't succeed in the SEC East in Florida, and had one of most bountiful recruiting grounds in the U.S. in which to work. And his outburst in the Iron Bowl didn't demonstrate much self-control.
——
Alabama got a break in the final College Football Playoffs rankings. It'll match up better against Michigan State, which will be reminded of the 49-7 whipping in 2010. Meanwhile, Oklahoma has never seemed intimidated by Alabama.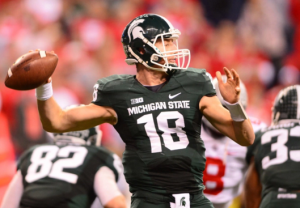 I'm figuring Oklahoma-Alabama in the championship game, but Tide fans need to be worried. The other three playoff teams with exceptional quarterbacks.
We started with one arcane QB stat. I'll offer another. Clemson's Deshaun Watson, Oklahoma's Baker Mayfield and MSU's Connor Cook have an average passer rating of 160. The 11 FBS quarterbacks Alabama faced this year average 137 and only one – Arkansas' Brandon Allen – was greater than 160.
——
I missed the "last Alabama quarterback to win" trivia question. I thought it was Brodie Croyle, but turns out he was 0-10 as a starter for the lowly Chiefs.
His dad, John, is one of the most dynamic speakers in the country and a former Alabama player who did great things with Big Oak Boys Ranch. This, from a luncheon talk during Brodie's playing days:
"Some of you know, my son is the quarterback for the Kansas City Chiefs. I'm not going to be so selfish as to ask you to pray for my son," John said.
"But I sure would appreciate it if you'd pray for his offensive linemen."