This is an archived article and the information in the article may be outdated. Please look at the time stamp on the story to see when it was last updated.
TUSCALOOSA, Ala. — The University of Alabama Athletics Department announced a major renovation plan for Crimson Tide athletics Thursday.
During the announcement, athletics director Greg Byrne unveiled the Crimson Standard, a $600 million plan over 10-years that will provide the environment necessary to recruit and train the best student-athletes.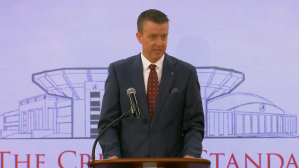 "Our core values also begin with the commitment to the total support of the educational, athletic and personal development of all student-athletes," said Byrne. "We have been on the forefront in investing in student-athlete development academically, in life skills, career development, mental health, safety, nutrition and many other areas. That being said, evolution of the facilities is critical as we continue to move our program forward to support the levels we expect them to perform and compete for championships."
Byrne added the work will be completed in three phases and that the plan would positively impact all of the teams and venues.
According to Byrne, the athletics department is relying heavily on supporters to, "keep the Tide rolling". He said they have nearly $143 million committed to the Crimson Standard initiative.
Head Coach Nick Saban also took the stage to show his support for the plan. After being joined by his wife, Terry, Saban announced he would donate $1 million to the Crimson Standard and the future of Alabama Athletics.
"In doing that, I thank everyone for all their support that they've given us. We have a great team here. Everybody's contributed to the success of the team, our administration, our athletic administration, all of our supporters and fans. And we thank you and appreciate you more than you know.
University of Alabama President Stuart Bell wrapped up the announcement by emphasizing the importance of the initiative and how it will only help move the athletics program forward.
"It is an exciting time to be out with the Alabama faithful. You can always talk about the history we have here at the University of Alabama, said Bell. "We have proven ourselves to be champions in so many different areas, both on the athletic side as well as on the academic side. But today, in addition to remembering that history that we have, we also focus on the future."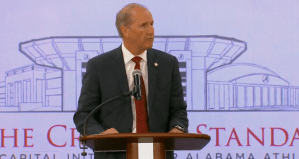 Renderings of the new improvements were revealed at the end of the announcement. For more information on the Crimson Standard and to see the renderings, click here.