This is an archived article and the information in the article may be outdated. Please look at the time stamp on the story to see when it was last updated.
HUNTSVILLE, Ala. – Three Huntsville Swim Association athletes are qualified for the 2016 United States Olympic Trials in June.  Several more area swimmers seek Olympic Trials qualifying standards this weekend at the HSA Spring Long Course Invitational at Huntsville Brahan Spring Park Natatorium.
"This meet is on that progression now into the summer where we have three or four meets coming up and we'd like to see our athletes pick up a few more qualifying times," HSA Head Coach Matt Webber said.
HSA's long course meet begins at 5:30 p.m. on Friday, April 22. Competition starts at 9 a.m. on Saturday and at 8 a.m. on Sunday.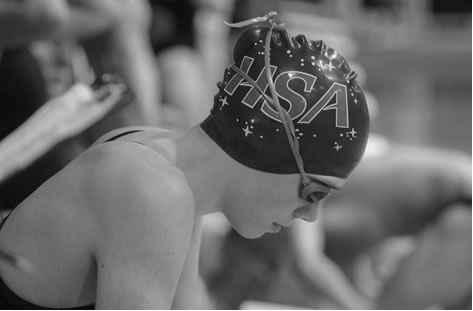 "We're expecting around 450 swimmers for this meet," said Webber. "Nashville Aquatic Club and Excel Aquatics are coming and Nashville has several swimmers already qualified for the Olympic Trials. They have a couple of the top girls in the nation. You throw us in there and you have really three out of the top four teams in our (Southeastern) LSC, so it will be very exciting."
HSA's Zach Harting, Cameron Conners and Kobie Melton have taken different routes, but the final results are the same. They've all punched their tickets to the Olympic Trials at the Centurylink Center in Omaha, Neb., beginning June 26.
USA Swimming opened qualifying for the 2016 Trials on July 30, 2014. Harting qualified in the 200 butterfly on the very first day of eligibility with a time of 2:01.12 at the Junior Nationals in Irvine, Cal.
The Bob Jones High School graduate continues to consistently lower his times. He was named to the NCSA All Star squad in 2015, traveling to Dublin, Ireland, to compete against the top swimmers in the world.
The 18-year-old phenom now swims on scholarship for the University of Louisville. Harting currently has three Trials cuts: the 100 and 200 fly and the 200 IM. He's close on the 200 free and 400 IM.
"And, if he gets a shot at swimming the 400 free before trials, he may pick up that one as well," Webber said.
Last week, Harding competed in the 2016 Arena Pro Swim Series in Mesa, Az, the premier meet for USA swimmers competing for top slots in the upcoming Olympic Trials. Last Friday (April 15), he swam in the 200 butterfly and qualified eighth in the prelims to make the "A" finals. He finished fifth in the finals (2:00.32), knocking nearly a second off his seed time. Michael Phelps, 30, qualified fourth in the prelims and won the final (1:58.14). Pace Clark was second (1:58.71), Jonathan Gomez third (1.58.79) and Jack Conger fourth (1.59.83). Harting was the youngest swimmer in the top eight.
"In the morning, I was swimming and getting beat pretty bad by the two guys out of the corner of my eye," Harting said after Friday's finals. "As it turns out, I was going pretty fast. But that was a mental deterrent, seeing them ahead. So, in the finals, I saw that the American record holder in the 2-fly (200) short course was only .3 faster than me and I was going to be in the water with Phelps. I told myself that no matter what, I wouldn't give up. I wasn't sure if I was going to beat him, but I knew I had a shot and that I was going to go for it."
Harting competed in the 100 and 200 butterfly and the 200 IM. He made the finals in all three events.
A former assistant coach with Redstone in the Rocket City Swim League, Harting shared a few of his tips for younger swimmers.
"If you work on streamlines, turns and underwaters, and have really good ones for later, it puts you about 800 steps ahead of everybody else," Harting said. "I think if you also work real hard and sacrifice a lot to be good, you will be rewarded. You'll get something back."
Conners, 23, a former University of Alabama star swimmer, qualified for the Olympic Trials in the 100 breaststroke (1:03.13) last month at the Southern Region Open Championships in Auburn.
"I'm definitely happy with the 100," Conners said. "I was overcoming a bout with food poisoning that weekend, but was able to bounce back. It helped to have my brother (Braxton Conners) next to me in the finals for that race."
This marks Conners' second trip to the Trials. The former 2009 Alabama High School state record holder in the 100-yard breaststroke qualified in both the 100 and 200 meter breast in 2012.
"I'll swim the 200 (breast) at the HSA meet, but I'll experiment with it here in Huntsville, then I hope to go for it next month in either Atlanta or Nashville."
Conners, who received All-State honors at Randolph High School in both swimming and cross country, said he also hopes to qualify for the Trials in the 50 free.
Melton is just age 15, but she posted an amazing time of 1:03.36 in the "C" Finals of the 100-meter backstroke at the 2016 NCSA Junior Nationals in Orlando, Fla., on March 18.
"When I got the cut, I was so ecstatic," Melton said. "I have been working towards the Trials cut and it is so surreal to finally have it."
The Athens High School sophomore honors student began swimming at age 6 with the Athens Gators summer league team. She started year-round USA Swimming at age 8 for the Decatur Swim Team and matriculated to HSA in 2011.
Melton qualified for her first Southeastern Meet at age 8 by making the strict 10-and-under time standards. Her initial national level competition was at age 13.
"We had seen what Kobi (Melton) had done in Atlanta in the long course time trials in December of 2015, where she was actually out a little bit faster there than she was in Orlando," Webber said. "We knew the speed was there to make it. She swam the race correctly in Orlando and came home like a freight train."