This is an archived article and the information in the article may be outdated. Please look at the time stamp on the story to see when it was last updated.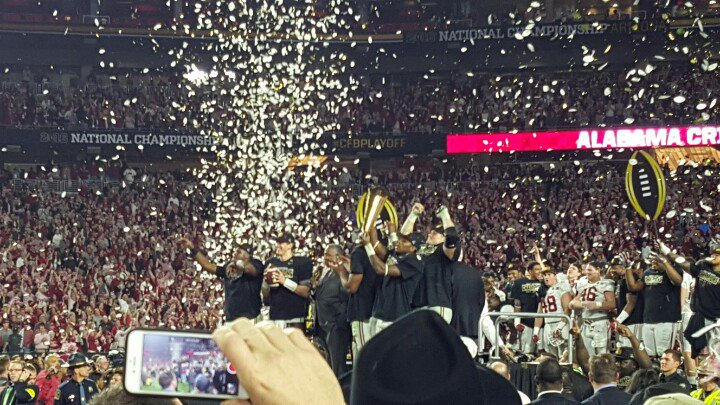 Well, didn't that one just take your heart and your soul and your entire nervous system, cram them into a washing machine and hit the spin cycle?
And is anybody really getting any work done around here this morning?
The glow of Alabama's 45-40 victory over Clemson in the national championship game won't fade for days. Maybe weeks. Maybe ever.
It was nearly four hours of riveting drama, unpredictable plays, unsung heroes, pendulum swings of scoring and emotion, perfection and imperfection – and, for us viewers, the reminder of why nobody talks about turning on the championship game just to watch the commercials, like they do the Super Bowl.
Alabama now claims 16 national championships, some more dubious than others. But nothing at all dubious here, to conquer an undefeated Clemson that was the best team Alabama has faced since Auburn's national title team in 2010, certainly with the best quarterback it has faced since one Cameron Jerrell Newton.
There's something extraordinary about No. 16, in the way the season unfolded, the way the championship game unfolded.
Even the most loyal of the Tide Nation had a case of the uh-oh's after the loss to Ole Miss, when Jake Coker made so many elementary mistakes and when a quality quarterback befuddled the defense. Alabama was a team at a crossroads. It could have gone either way, to a decent season or an historic one.
And then – whew! – this game.
The Slick Nick Trick Kick. The unveiling of O.J. Howard. Kenyan Drake's TD return. The astonishing ability of both teams to sustain blows that could have been emotionally crippling, only to answer back with scores. Coker's relentless nature, even after spending much of the first half imitating a piñata. Un-freaking-forgettable.
I mean, tell me something from Alabama's title win over Texas. Or that humdrum game against LSU. Or the beatdown of Notre Dame.
And I can tell you a dozen things you'll never forget about this one.
Kudos to ESPN's Scott Van Pelt, who had Nick Saban on-set early this morning. He ventured one of those questions that would bring a volcanic eruption on a Monday presser in Tuscaloosa, but drew a warm response this time. He asked Saban if he had a sense of what a great game it truly was.
Saban, now in possession of his fifth national title, admitted that he thought at one point, "I bet there's a lot of people out there enjoying this game."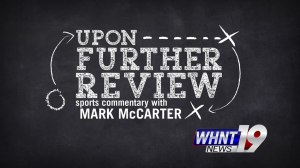 If there has been one legitimate knock on Saban, it has been improvisation and in-game decision-making. His teams are so well-prepared and typically are so physically superior, he has not needed to ad lib much or use much imagination. But ordering the loopy onside kick in the fourth quarter was a stroke of genius.
So surprised was offensive coordinator Lane Kiffin, he had to be careful not to seem too shocked, lest he tip off Clemson, he told reporters.
Adam Griffith executed the kick perfectly and Marlon Humphrey recovered. Ah, for Alabama's legacy. He's the son of former All-America running back Bobby Humphrey.
Said Clemson's Dabo Swinney, "A huge play."
Quoth Saban: "We weren't playing very well on defense. I thought we needed to do something that would change the momentum of the game."
That great source for all things sports, Slate.com, breathlessly called it the "most surprising onside kick in football history."
Howard was named the Offensive Player of the Game, though handing it to Alabama quarterback Jake Coker or Clemson QB Deshaun Watson wouldn't have been off-base.  Howard got treated by the Clemson secondary like he was radioactive. He caught five passes for 208 yards and a pair of touchdowns.
(A brief interruption here for editorial comment: The reintroduction of Howard into the offense might please Delanie Walker. He's the Tennessee Titans' tight end – and reports Monday night had Lane Kiffin headed to Nashville for an interview as the Titans' head coach. Dumb PR move, Titans. Whether he can coach or not, you have a dwindling fan base, many of whom are Vols fans still holding a grudge against Kiffin.)
Eddie Jackson, the Alabama defensive back with an interception of Watson, was named Defensive Player of the Game. On a night of 85 points, finding a candidate for that award was like finding a Bernie Sanders bumper sticker at a truck stop.
Saban was still damp with his Gatorade baptism when he said this was "my favorite team" because it has "come so far and done so much."
Sixteen titles, Alabama fans, you can pick your favorite. But you'll be hard pressed to find a more favorite game than the night Nick's Slick Trick Kick wrote the final chapter for a team that was equal parts improbable and invincible.