This is an archived article and the information in the article may be outdated. Please look at the time stamp on the story to see when it was last updated.
The career was launched at Alabama A&M. It was capped by enshrinement into the Pro Football Hall of Fame.
Along the way, there was a career milestone: John Stallworth on the cover of Sports Illustrated, with the game-winning 73-yard touchdown catch in Super Bowl XIV against the Rams, the fourth Super Bowl championship for Stallworth and his Steelers.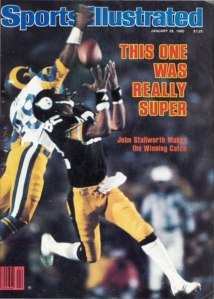 Stallworth, a Tuscaloosa native and now a civic and business leader in Huntsville, recalled the touchdown in an interview with WHNT News 19.
"We're going back and forth with the Rams. They were ahead and we called the play. It's called 60 Prevent Slot Hook and Go," he said. "I'm the slot, I run a fake hook and go. I run the route I don't really give a good hook fake, because I didn't think anybody was going to bite on it."
Terry Bradshaw had plenty of time in the pocket, then reared back and fired.
"Bradshaw threw the ball. It had to be 60 yards in the air. I'm running from my right to my left. The defensive back (Rod Perry) is trailing to my right to my left. I catch the ball over my right shoulder."
The right shoulder was actually "over the wrong shoulder," Stallworth said. "Not that was any great and wonderful thing, but what it was the defensive back jumped to knock the ball away from where it should have been over my left shoulder. It's over my right shoulder. He jumps, he misses and I catch the pass and go for a touchdown. "
The ball was in the air for so long, there was plenty of time to think as Stallworth sped down the middle of the Rose Bowl turf.
"My thought," Stallworth laughed, was 'Darn it, Bradshaw you've overthrown me."
It wasn't even Stallworth's longest Super Bowl touchdown. He scored on a 75-yard catch-and-run in Super Bowl XIII against Dallas, in which he had a pair of TDs.
He's still in the Super Bowl record books. Only Jerry Rice has more receiving touchdowns and he has the career record for average yards per catch.
"That's an old record, then isn't it. It's been around for a while."