This is an archived article and the information in the article may be outdated. Please look at the time stamp on the story to see when it was last updated.
For much of last week, buried under the Cam vs. Peyton, will-he? won't-he? hype for Super Bowl 50, we went to history class in this column space.
We revisited past Super Bowls online and on-air where players and individuals with ties to the state of Alabama, either as college players or natives, played essential roles.
More than 250 of the roughly 3,000 Super Bowl participants have Alabama ties. In only three of the 50 Super Bowls were there no players from this state or one of its schools.
We started with the first AFC-NFC World Championship Game – then only unofficially dubbed the Super Bowl – and how Bart Starr, a Montgomery native and former University of Alabama quarterback, distinguished himself in the Packers' victory over Kansas City.
It brought us to this, Super Bowl 50, in which there were a dozen Alabama connections and in which Cam Newton, the former Auburn University quarterback, did not distinguish himself in the Panthers' loss to Denver.
Nor did he distinguish himself in a sour, curt postgame press conference; whether it was forgivable raw emotion or disappointing act from the new face of the NFL has been a matter of debate among the pundits since Cam exited the podium. Put me among those believing the latter. We've grown to expect better.
Newton had a terrible Super Bowl. To steal a line I've heard from the great ex-Auburn basketball coach Sonny Smith, Cam couldn't play dead in a cowboy movie. He got turned into a piñata by a great Denver defense, the same defense that showed us two weeks earlier that Tom Brady might not be Joe Montana 2.0 after all.
He also got no help from his receivers, including Jerricho Cotchery, the Birmingham native who dropped a very catchable ball and bobbled another one that led to a controversial replay decision.
And the Denver defense pretty much extinguished anything drawn up by Mike Shula, the former Alabama quarterback and head coach who had been masterful as the Carolina offensive coordinator this year.
From the bad and ugly, to the good: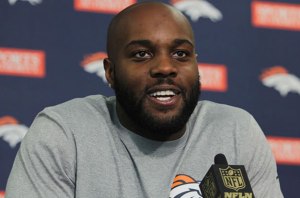 Start with Darian Stewart, the former Lee High School standout and now a Broncos' safety. Stewart will be the first Madison County native with a Super Bowl championship ring since the Giants' Howard Cross (from New Hope High) in 1990.  Note to Mayor Battle: We need a parade.
Greg Olsen, the Carolina tight end and one of Newton's favorite receivers, had a nondescript four catches for 41 yards, much of that because of Stewart's coverage. Stewart, who played college ball at South Carolina, also forced the fumble by Mike Tolbert, sacked Newton (who didn't?) and tackled Cotchery hard enough to cause him to bobble the catch that led to the aforementioned controversial replay decision.
There is Evan Mathis, the former Alabama offensive lineman, who helped solidify the Broncos' line after coming over from Philadelphia.
Finally, there was DeMarcus Ware, the Broncos' defensive end, an Auburn native who played at Troy. Ware is a nine-time Pro Bowler and seven times picked either first or second-team All-Pro, most of those in his brilliant days at Dallas.
For all the neon names that have emerged from the state's top two football powers, he's the greatest pro football player produced in this state since the 1990s. (To continue that theme, I'll give you Terrell Owens as No. 2 and Robert Mathis, from Alabama A&M, as No. 3.)
Ware had two sacks, five tackles and four quarterback hurries in Sunday's win, second only to MVP teammate Von Miller in the devastation of Newton & Co.
"It's a sense of I have finally arrived," Ware told reporters after the Super Bowl win, though NFL observers know he arrived – with seismic results – a decade earlier.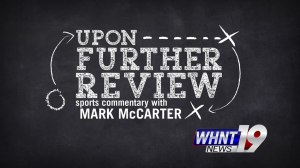 On Super Bowl eve, there was much to celebrate for the state.
Ken Stabler, the former Alabama quarterback, and Kevin Greene, the former Auburn defensive end, were both selected for the Pro Football Hall of Fame. (Owens, from Alexander City, was a finalist and most experts expect him to be chosen in the next year or two.)
It was a long time coming to have Stabler and Greene selected, in particular Stabler. It was a year too late, in fact. Stabler died last summer at age 69. And in a melancholy news-cycle week for the Stabler family, it was revealed just a few days before the Hall of Fame announcement that Snake had been afflicted with CTE, the brain injury suffered in what seems to be epidemic proportions by former football players.
Stabler joins a raft of former Crimson Tide players in the Hall of Fame, including Starr and Joe Namath, his predecessors at quarterback. Greene is only the second Auburn player, joining Frank Gatski.
And they'll be joined within 10 years or so by Troy's first selection, DeMarcus Ware, who long ago arrived as an NFL star but on the game's biggest stage and helped make a little more Super Bowl history for the state.