This is an archived article and the information in the article may be outdated. Please look at the time stamp on the story to see when it was last updated.
The Atlanta Falcons were in Super Bowl XXXIII in Miami, coping with the Denver Broncos and John Elway in what would Elway's final game.
Early in the game, the Falcons lost their starting center. Adam Schreiber played high school ball at Butler and was Atlanta's long-snapper. He remembered that moment in a recent interview with WHNT News 19.
"I was a backup at this time," he said. "And field goal snapping and extra points snapping. And Robbie Tobeck, the starting center, got hurt in the first quarter. And I was his backup. So, send Adam in. "
After his high school career at Butler, he signed with the University of Texas. He spent 16 years in the NFL, the longest pro football tenure for any former Longhorn. Much of those 202 games, he was long-snapper and backup center, playing for Seattle, New Orleans, Philadelphia, the Jets, Minnesota, the Giants and Falcons.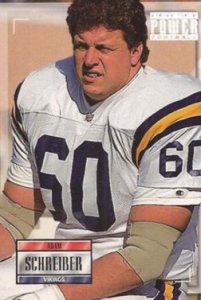 It took him 14 years before he ever played in – or went to – a Super Bowl.
"It was everything I ever heard it was," he said of the atmosphere in Miami that week. "And I always made a promise to myself that I would never go to a Super Bowl until I had a chance to play in it."
Schreiber wasn't accustomed to playing a full game. And the Broncos were ferocious in their 34-19 win. I covered the game as a newspaper columnist and remember catching up to Schreiber in the locker room after the game. He was exhausted.
"It was really the most physical game I ever played in," he said during his recent visit to Huntsville. "We had just gotten through beating Minnesota in Minnesota which was a very difficult game to win, but the Super Bowl really, the intensity was at a level I hadn't experienced before."
This was Atlanta's only Super Bowl team, a gritty bunch they called the Dirty Birds, complete with their own dance.
"We just believed in ourselves. You know, football's funny. If you've got enough guys that believe in what's going on, you can win a lot of games because it is an emotional game," he said.
Were it not for an overtime field goal by Morten Andersen in the NFC Championship Game, the Falcons would have been watching from home. The game-winner started with a snap from Schreiber.
"Morten Andersen's from Denmark. We get in the huddle, we address the ball and Denny Green, the Vikings' head coach decided to ice Morten," Schreiber said.
"We come back in the huddle and Morten's laughing. I mean, this is the biggest kick. What in the world is he laughing about. He goes, 'They're icing me. I'm from Denmark. I don't get cold.'"