Selection Sunday is fewer than five weeks away! After another week of chaos (15 ranked teams lost last week, including eight on an action-packed Saturday), there are plenty of updates to be made to our projected men's NCAA tournament field. A couple of bluebloods are still sweating it out on the bubble, while the race for the No. 1 seeds continues.
Here's a look at Sports Illustrated's current view of the field, with notes on the emerging bubble picture and more.
On the Bubble
Last Four Byes:
Nevada
Northwestern
Kentucky
USC
Last Four In:
New Mexico
Boise State
Texas A&M
North Carolina
First Four Out:
Mississippi State
Memphis
Seton Hall
Florida
Next Four Out:
Wisconsin
Utah State
Virginia Tech
Penn State
The last team in today's projected field is North Carolina, which officially is in trouble after taking a third consecutive loss, this time to Wake Forest, on Tuesday. Keeping a "clean" résumé with no bad losses can do the Heels only so much good, particularly with a 1–8 record in Quad 1 games and a 6–9 mark against the top two quadrants. North Carolina needs a needle-moving win or two to ensure its place in the field.
The Mountain West is taking an increasingly prominent position in the bubble picture, with four teams from the league sweating out their tournament hopes right now. Nevada's win on the road at New Mexico on Tuesday moved the Wolf Pack into the "Last Four Byes" and gives them some breathing room, particularly with a manageable schedule coming down the stretch. New Mexico's two elite road wins at Saint Mary's and San Diego State give the Lobos some equity, but the margin for error is shrinking. I'm perhaps most intrigued by Utah State, which qualitatively looks like a tournament team but has two bad losses and no Q1 wins.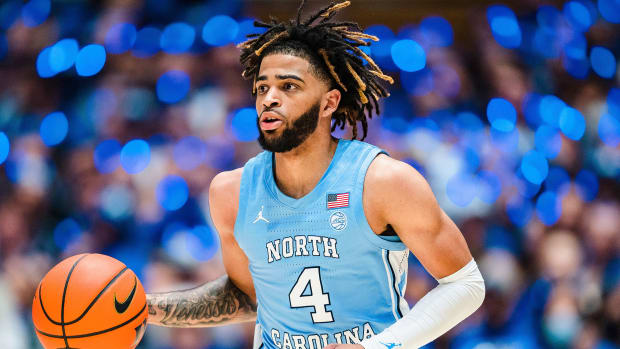 * = indicates team is projected to win its conference's automatic bid
South Region
No. 1 Purdue* vs. No. 16 Morehead State*/Alcorn State*
No. 8 Arkansas vs. No. 9 West Virginia
No. 5 TCU vs. No. 12 Liberty*
No. 4 Marquette vs. No. 13 Toledo*
No. 6 Providence vs. No. 11 USC
No. 3 Baylor vs. No. 14 Youngstown State*
No. 7 Iowa vs. No. 10 Kentucky
No. 2 UCLA* vs. No. 15 UNC Greensboro*
TCU has now dropped three of four since star point guard Mike Miles Jr. went down early in the team's game against Mississippi State with a knee injury. The Horned Frogs are clearly a different team with their point guard healthy, and the hope is he'll be back by tournament time. Still, there are no guarantees about how much the committee will or won't consider Miles's missed time in seeding the Frogs, so an extended skid would not be ideal.
Meanwhile, Arkansas has solidified its place in the field after a 1–5 start to SEC play raised some questions by winning at Kentucky on Tuesday. The Razorbacks, like they have the last two years, are turning the corner as we get deeper into conference play. Six of their final seven games are against top-50 KenPom teams, so a strong finish could vault the Hogs up the seed list substantially.
Midwest Region
No. 1 Alabama* vs. No. 16 UMES*/Fairleigh Dickinson*
No. 8 NC State vs. No. 9 Oklahoma State
No. 5 Indiana vs. No. 12 Oral Roberts*
No. 4 Kansas State vs. No. 13 Hofstra*
No. 6 San Diego State* vs. No. 11 Clemson*
No. 3 Xavier* vs. No. 14 Colgate*
No. 7 Duke vs. No. 10 Northwestern
No. 2 Texas* vs. No. 15 Eastern Washington*
Indiana has added a pair of Quad 1 wins since our last update and climbed to the No. 5 line as a result. The Hoosiers are still below .500 in Q1 games at 4–6, but their high-end wins over Purdue and on the road at Xavier do give them a chance to break into top four "protected" seed territory. IU's next five games are currently slated to be classified as Q1 games, so it's got a chance to really build a résumé in the coming weeks.
This projection keeps Clemson as the ACC's automatic qualifier, but its position on the seed list pegs the Tigers as what would be the last team in the field if not for that automatic bid. Things are rather precarious right now for the ACC leaders because of their three bad losses, and Saturday's trip to take on North Carolina looms large for both teams.
West Region
No. 1 Houston* vs. No. 16 Texas A&M–Corpus Christi*
No. 8 Michigan State vs. No. 9 Missouri
No. 5 Saint Mary's* vs. No. 12 Drake*
No. 4 UConn vs. No. 13 Louisiana*
No. 6 Illinois vs. No. 11 Boise State/North Carolina
No. 3 Iowa State vs. No. 14 Princeton*
No. 7 Creighton vs. No. 10 Oklahoma State
No. 2 Tennessee vs. No. 15 Vermont*
Even with its win over Gonzaga over the weekend, Saint Mary's couldn't quite climb onto the No. 4 line due to its Quad 3 losses to Washington and Colorado State. The Gaels have been a puzzling team to seed all season thanks to their elite metrics but otherwise less-spectacular résumé. They're the team I'm perhaps most excited to see how the committee seeds in the top 16 reveal next weekend.
If Missouri wants to have a sweat-free Selection Sunday, a win in one of the Tigers' next two games on the road at Tennessee and Auburn would do the trick. As long as they avoid bad losses down the stretch (they currently have no losses outside Q1), they should dance, but adding one more big win would be the cherry on top.
East
No. 1 Kansas vs. No. 16 Rider*
No. 8 Florida Atlantic vs. No. 9 Auburn
No. 5 Miami vs. No. 12 VCU*
No. 4 Gonzaga vs. No. 13 Utah Valley*
No. 6 Rutgers vs. No. 11 New Mexico/Texas A&M
No. 3 Virginia vs. No. 14 UC Santa Barbara*
No. 7 Maryland vs. No. 10 Pittsburgh
No. 2 Arizona vs. No. 15 UNC Asheville*
Arizona remains in the mix for a No. 1 seed, currently sitting as our fifth overall team in the field. Its hopes of landing on the top line seem likely to come down to the final weekend of the regular season, when the Wildcats play road games at USC and UCLA. They'll likely need to win at least one—and maybe both—to surpass teams like Kansas and Houston for a No. 1 seed.
Auburn may not be as much of a lock as the Tigers have seemed for much of the season. They're now just 1–5 in Q1 games after losing at Texas A&M on Tuesday, with their best win either at home against Arkansas or a neutral-court win over Northwestern. A rivalry game with Alabama looms this weekend, which could be the chance for Auburn to get its résumé-topping victory. After losing four of five, the Tigers need to find a way to move the needle positively and end this recent freefall.