This is an archived article and the information in the article may be outdated. Please look at the time stamp on the story to see when it was last updated.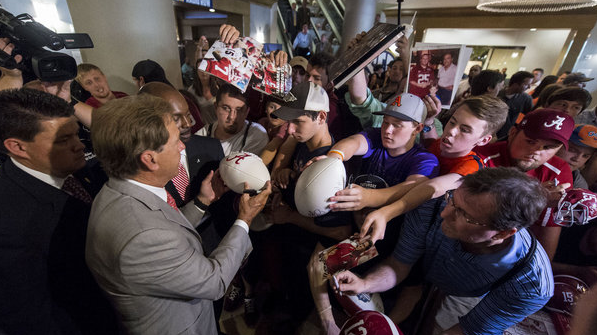 HOOVER – You'll likely not know the name Elmore "Scoop" Hudgins, though he spent his formative years in Huntsville and was laid to rest at Maple Hill nearly 20 years ago.
He was an energetic, impish little man, with a name straight from a 1950s newspaper movie. He was, for 19 years, the sports information director of the Southeastern Conference. Scoop's task was to keep sportswriters enlightened, informed and entertained – and well-hydrated. Not always in that order.
It is because of Scoop Hudgins that a thousand or so of us are gathering today in the annual semi-hostile takeover of the Wynfrey Hotel that is known as SEC Media Days.
Scoop wanted to help journalists do their jobs, a quaint notion in this era of young sports information directors who are paranoid, protective and often condescending.
To do so, Hudgins created and conducted the SEC Skywriters Tour in 1965. Forty or so writers would board a chartered Southern Airways DC-3 piloted by a guy nicknamed "Crash" and fly to all 10 SEC campuses, having intimate meetings with coaches and players. The occasional adult beverage was consumed. Many laughs were had.
There was more news generated from the Skywriters' Tour than these current media days. Practice was underway, so there were always tidbits to report. Announcements were orchestrated for their arrival.
There was also more irreverence. After a summer in which many Kentucky players fell into disfavor with law enforcement officials, my former sports editor in Chattanooga read Miranda rights to the Wildcats' coach before his Skywriters' speech.
Imagine that today.
I regret never having gone on the Skywriters, though an assignment in Knoxville in 1977 coincided with their arrival. I went to see friends, just in time to enter the hospitality room where one writer was attempting to strangle another in a poker-game argument.
One of those writers later accidentally locked himself out of his room at the same hotel, which had a wide-open atrium. Whether he or his fellow guests most regretted that he slept in the nude is a toss-up.
By the mid-1980s, the Skywriters had become too big. Partly because TV equipment had become so small. The portability of equipment led to more stations wanting to participate.
In 1985, the SEC initiated media days in a small auditorium at the Medical Forum attached to Birmingham's Sheraton. (Give yourself a hand if you can name Ray Perkins, Pat Dye, Galen Hall, Vince Dooley, Jerry Claiborne, Bill Arnsparger, Billy Brewer, Emory Bellard, Johnny Majors and George McIntyre as the SEC's head coaches that year.)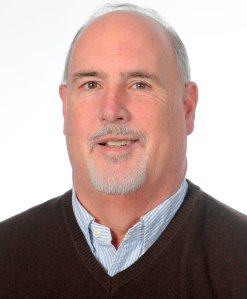 It was a great convenience for more media to have access to the coaches, and certainly more convenient for coaches to knock out the whole media-obligation nuisance in one day. Though it never seemed to be such a drudgery for coaches of that era.
"Media circus" and "zoo" are the most convenient clichés to describe what it has become, but that's not especially fair.
To circuses and zoos.
No, truth be told, it's just an ever-growing monstrosity, what with the current diversity of media. A long corridor is lined by tables for talk radio. A massive ballroom holds hundreds, and is mostly for the keyboard set, the newspaper sportswriters (an endangered but not extinct species despite what's happened in this state), the website maestros, the bloggers and the social-media typists. I'll be in the latter role all week for WHNT.com for what I believe is my 20th media days.
There are "breakout rooms" for local TV stations, networks and perhaps even Al Jazeera to set up tripods and cameras, and coaches are led by their dutiful media relations aides, who are bodyguards than anything, from one room to the other.
It's really quite organized and never seems all that crowded until the coach from, say, Kentucky or Missouri takes the stage and the line of loiterers around the soft drink machine seems to be longer than usual.
The real zoo is triggered by fans. Especially on Wednesday. That's the "Elvis is in the building" moment when Nick Saban arrives in the hotel lobby and hundreds of admirers turn up.
It has only been rivaled by the appearance of Tim Tebow in 2009 when he strolled through the lobby, healed two lepers, changed a bottle of Gatorade into a nice Chablis and prompted 45 extra hours of ESPN programming.
Just as Scoop Hudgins' invention was years ago, SEC Media Days is still about helping journalists. But it's evolved into an event where the biggest priority is to increase and enhance the SEC brand.
There's less news but more hype, and that's just fine for the league. It's more attention. When everybody reports that hundreds of media are credentialed, it shows the world just how important the SEC is, that we'd surrender four days in mid-summer to sit in a hotel ballroom and have Hugh Freeze stonewall us about NCAA investigations and Gus Malzahn put us to sleep.
The more hype, the more attention, the more this leads to perpetuating the belief the SEC is the planet's best conference, the more votes in polls and for awards, the more lucrative bowl bids.
I don't think Scoop Hudgins could ever have imagined what his creation has become.
I also think sometimes a rollicking old propeller plane might be a more fun flight than an overbooked, no-knee-room Boeing 757.
Long-time sportswriter Mark McCarter is a special contributor for WHNT News 19. Follow his coverage of the SEC Media Days on WHNT.com and in nightly reports this week on WHNT News 19.