This is an archived article and the information in the article may be outdated. Please look at the time stamp on the story to see when it was last updated.
HOOVER, Ala. (WHNT) - The SEC is implementing several new rules for the 2015 season. Steve Shaw is the conference's coordinator of officials, and he explained some of the changes to Sports Director Ryan Cody in the video above.
Shaw began his address to the media by echoing commissioner Greg Sankey's notion that "the times are a-changing.'"
The following Power Point slide shows a brief list of the rule changes for this upcoming season.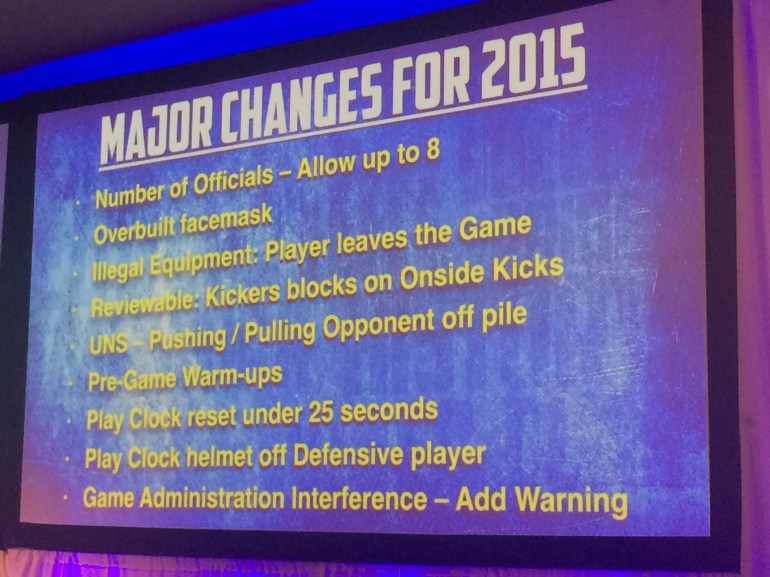 Most of the changes won't be easily noticed by fans at home, but that's the point.  Nothing implemented this season will have a sweeping effect on play like the "targeting" rule did two years ago. The main difference is an addition of one more official who will oversee the entire play. Shaw referred to this 8th referee as a "center-fielder."
Shaw played a video example of a missed call that could have been spotted if an 8th official were on the field. In the video, Auburn's up-tempo offense didn't give the official time to count all of the Tigers on the field, leaving a 12th Auburn player on the field able to be in the play and slip onto the sidelines with no penalty called, drawing laughs from the crowd.
Another change coming behind the scenes is the appointment of an independent medical observer to monitor player safety during games. The medical observer will be an independent, conference-appointed certified athletic trainer.  He or she will be a back-up observer for head or neck trauma, primarily.
Medical observers will sit in the instant replay booth with rewind capabilities. They will have communication to both sidelines and the ability to pull a player off the field to check for injury. When a snap becomes imminent, they will have the ability to stop the game and get an injured player off the field.