This is an archived article and the information in the article may be outdated. Please look at the time stamp on the story to see when it was last updated.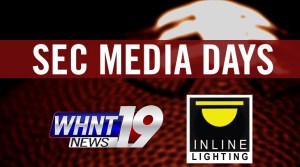 HOOVER, Ala. -SEC Media Days 2015 day two is here and WHNT News 19 is your inside source for the first look at the 2015 football season.
We're going to be in Hoover all four days bringing you the inside scoop on your favorite teams, coaches, and players.
Today, the coaches and players from South Carolina, Texas A&M, Mississippi State, and Tennessee are up (in that order.)
Keep this page open all day for updates. It will automatically refresh when new news is posted.