This is an archived article and the information in the article may be outdated. Please look at the time stamp on the story to see when it was last updated.
"The Heisman Memorial Trophy annually recognizes the outstanding college football player whose performance best exhibits the pursuit of excellence with integrity." The first sentence of the Heisman trust mission statement is also the number one guideline for voting.
It is an honor to be one of the 870 media voters across the nation with a say in who wins the Heisman, but it's also a major responsibility. Each voter must rank three players in order with the first selection receiving three points. The second place selection receives two and the third is awarded one. I believe in a transparent process, and therefore feel it is important to reveal my ballot.
Marcus Mariota – Oregon (3 points)
Amari Cooper – Alabama (2 points)
Melvin Gordon – Wisconsin (1 point)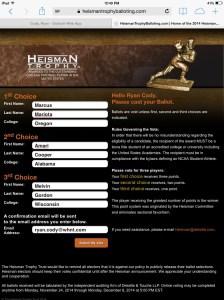 Oregon's outstanding junior quarterback threw for 38 touchdowns and just two interceptions. Mariota's completion percentage of 68.3 ranks 6th in the nation, but no other QB in the top 50 has less than three interceptions. His team is 12-1 and he is the reason why.
I picked Alabama's record breaking wide receiver Amari Cooper number two because he's on the verge of the greatest receiving season of anybody ever. Cooper smashed the SEC record for receptions and receiving yards. It's really tough to rank Cooper any lower than one, but since we are splitting hairs I'll explain. The biggest knock in Coop is his position. Only two out of 80 winners played wide receiver; Tim Brown in 1987 and Desmond Howard in 1991. Howard would not have won the award without also returning a kick and a punt for scores. That season, Howard also rushed for two touchdowns on offense which solidified his standing as a hybrid player. It's just my opinion, but a wide receiver that does not play special teams cannot be considered the most outstanding overall player in the game. There are just too many other factors that must go right for him to excel. I'm of the opinion he and Blake Sims made each other better. Sims often relied on Cooper to move the chains, but the throw still had to be on target. The snap still had to be handled, and the play fakes still needed to be carried out. If any one of these things went wrong, Cooper would not get the ball.
Is Amari Cooper the greatest wide receiver in college football? Yes, and it's not even close. That's what the Biletnikoff is for and Cooper won that without question. Will he be the most successful pro? I believe so, but that doesn't win you the Heisman. Robert Griffin III won the award over Andrew Luck in 2011, and nobody is debating the better player today.
As for Melvin Gordon, he's pretty darn good too. I thought this was a two horse race all along though, and he would not have been on my ballot if not for the fact you need three choices.
Obviously my selection will be met with opposition in the state of Alabama, and that is okay. I feel like this race was much closer than the voting shows, and it has been a pleasure covering Amari Cooper over the last three seasons. Coop did not win the Heisman, but he is a winner.