This is an archived article and the information in the article may be outdated. Please look at the time stamp on the story to see when it was last updated.
NEW MARKET, Ala. – A tiny 7-year-old smiles big as Sharon Johnston Head Coach Glenn Carr praises her butterfly.
When Carr offers a little advice, the girl pulls at her swim cap. She has something more pressing on her mind.
"I like to do magic tricks," she proudly proclaims, right out of the blue, like children do.
"Wow," Carr exclaims!
He takes a step back and puts his hands to his face. His eyes glisten.
"I can do a magic trick," Carr continues. "I can sit on my sofa and wiggle my nose and change the channel on the TV."
The little girl looks up at him amazed. She quickly realizes, by the look on his face, that her coach is playing again. After a moment of mutual admiration, Carr knows the timing is right.
"Well, it works best when I have the TV remote in my other hand."
The girl tells her coach he's silly, lightly swatting at him with her hand. All of a sudden, the student is ready to listen to more swim instruction.
"When I'm with the children, I'm young again," Carr said. "I enjoy their company and I feel like they feel the same, or I wouldn't have been enjoying this for so long. We talk to them in a positive way they respect. Our coaches are told to never yell at swimmers. I just don't believe that's the proper way to get their attention."
Carr is recognized as one of the foremost authorities of youth swimming in the state. An expert at teaching all levels of stroke technique, the local swim pioneer is also instrumental in the growth of the sport throughout the area.
"I actually swam in the Rocket City Swim League at the same time as Glenn (Carr), so I've known him a long time," said Barbara Belyea, the Head Coach of Mountain Valley Aquatics. "He's done so much for the sport in our area and I believe he really deserves to be added into our Hall of Fame. He has a true and rare gift he shares with children. He does it in such a caring way that's so impressive to witness."
Belyea was inducted into the Huntsville-Madison County Athletic Hall of Fame in 2012. Carr and Belyea swam in the RCSL in the 1960s.
This year marks the 50th anniversary of the RCSL City Swim Meet. The prestigious event is set for July 11-12 at the Huntsville Natatorium.
The city swim championships features 18 teams from pools all around Madison County, plus the special needs team swimming in an exhibition freestyle event. Ten-and-under swimmers start both days at 8:30 a.m. The older athletes compete in the afternoon.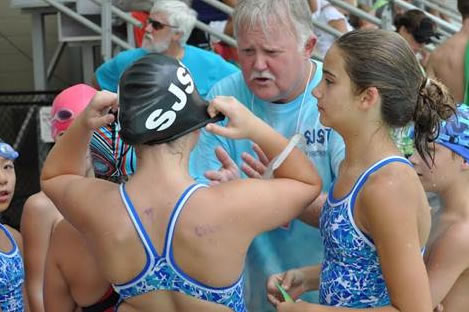 Carr says attaining Eagle Scout status as a youth with the Boy Scouts set him on the right path. He graduated from Lee High School in 1969 and lettered in swimming. He received a degree in business administration in 1974 from Athens State.
A former high school coach at Lee-Huntsville, Gadsden, Emma Sansom, Decatur and Austin, Carr was recently hired to help mentor the Hazel Green prep swim team. He also has collegiate level coaching experience at the University of Texas-Arlington.
After his first coaching job in 1971 with Monte Sano in RCSL, Carr started the Chapman Swim Team in 1973.
He then turned the Jones Valley program around. Carr reinvigorated a winless team in one year by leading the Blue Wave to a 5-1 regular-season mark in 1975.
His overall RCSL win/loss record is 56-26-1, but the numbers are affected by teams he either formed or resurrected.
"When I started a team at Chapman, we had zero competitive swimmers in the beginning and we lost each meet by more than 500 points. And then at Sharon Johnston, that team had been hit by the tornado of 2002 and they had a dwindling team of only 25 swimmers."
Sharon Johnston now averages more than 100 swimmers per season. Carr has instructed more than 1,500 athletes during his RCSL career alone. He's also taught more than 500 children the basic art of swimming. He says he feels best knowing his pure passion for the sport surely helped save lives.
Carr is closing out his 12th season at Sharon Johnston. The Tornadoes had a six-year regular-season unbeaten streak snapped with a seven-point team loss to Lily Flagg last year.
"I treasure watching the sweet smile come over my husband's face when swim team sign-up comes and all those kids are all around him," said Kay Carr.
Glenn Carr not only started and rejuvenated teams, he formed a swim league. In 2010, he recruited 13 high schools and constructed the North Alabama High School Swim League. Soon, he'll share his knowledge to help prep schools in the Birmingham area form a similar league.
He also obtained a place for Madison County prep swimmers to practice and hold meets. He secured starting blocks, timing equipment and recruited start and turn officials so the athletes could have accredited times during the swim season.
The swim mentor likens his passion for the sport to that of a successful gardener toiling with the right steps it takes to harvest an abundant crop.
"I had to sort of create things to help make the kids better and give them a chance to progress. I want the sport to get better. For a team to get good, you need to have swim lessons for the little ones. And, when they get older, there needs to be a good chance for them to improve on the high school level."
When he's not coaching, or coming up with ideas to further the sport in Madison County, Carr is up late at night charting swimmers. He also sends emails and contacts coaches, spending a lot of his free time helping athletes attain college swim scholarships and financial scholarship assistance.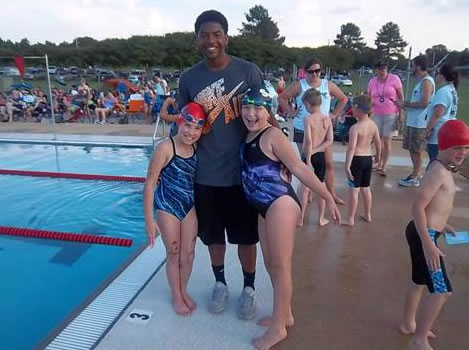 "It's really cool when they stop back by to see me, like Laban Jamar has done. He talked to some of my young swimmers at my stroke class and the kids had the opportunity to ask questions about going to college on a swim scholarship. He's also one of my summer league assistants."
Carr helped Jamar obtain a swim scholarship to Lindenwood University (NAIA) near St. Louis, Mo. Jamar, a 2014 graduate of Buckhorn High School, set the Lindenwood 100 breaststroke school record this past season and was named honorable mention All American.
"If it wasn't for Coach Glenn, honestly, I don't know what I would have done, or what I'd be doing," Jamar said. "His kindness has meant the world to me."
Carr is a Big Brother to Joe Gordon in the Big Brothers Big Sisters of North Alabama. He quips that it took "a while" to spark that initial friendship nine years ago.
"It took almost 30 minutes," Carr said with a smile. "Joe is 17 now. It really makes your heart beat to know you're helping someone. Besides that, Joe is just a whole lot of fun."
Carr credits his father for giving him his gift of helping others. He names two more people who were influential in his coaching career.
"Fran Norris and Sam Sullins are the two I've always looked up to as I first started out. Fran started the Monte Sano team and she was my coach. She started the Rocket City Swim League with Sam. I was later named the coach at Monte Sano. It's been a blast ever since and I've learned so much over the years."
Norris was instrumental in getting the city to build the Huntsville Natatorium. The first city meet was held on Aug. 14, 1965. The initial meet was won by a Whitesburg team formed by Sullins.
"That first city meet was at Big Spring Park and that water was pretty cold," Sullins said. "I remember the kids saying they wanted to swim fast to get out of the water as fast as they could.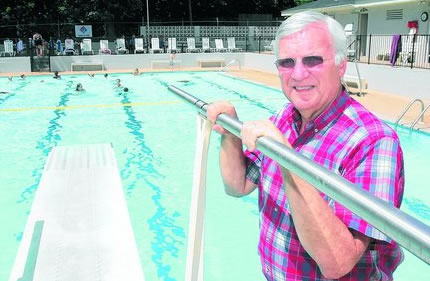 "I ended up coaching for more than 30 years," he added. "I was a school teacher and a principal. I've been retired since 1996 and I still help children with trying to improve their ACT scores. I have more fun dealing with that than anything now. I don't have the little swimmers coming up to me and hugging me anymore like Glenn (Carr) does. It's more the parents and the grandparents."
Sullins remembers the dean of current RCSL coaches from when Carr first started in the league.
"Glenn was always such a hard worker with swimming. As he grew up, swimming seemed to become his primary concern. I think he has been an asset to the sport throughout the area," Sullins said.
"I believe the love the kids show him is the essence of teaching because the children will either matriculate toward someone, or away from them. I think he has the personality and the love for helping children that is hard to find. For people like Glenn, the rewards are great," Sullins added.