This is an archived article and the information in the article may be outdated. Please look at the time stamp on the story to see when it was last updated.
KNOXVILLE, Tenn. – She was going to keep fighting, she vowed six years ago when the news broke. She couldn't keep coaching, but it wasn't going to stop her from living. She'd work puzzles on her iPad, to keep her mind sharp. She'd stay active.
But Pat Summitt had met an opponent more relentless than she. There is no beating Alzheimer's Disease. It's the sixth-leading cause of death in the United States. There is no cure. There are glimmers of hope in treatment, but without something miraculous, we're years away from something substantial.
You've read and heard countless tributes since the inevitable news broke Tuesday morning. About Summitt's unprecedented coaching record, with the 1,098 victories and the eight national championships and 32 SEC titles. About her players' academic record, and how every player who completed her eligibility graduated.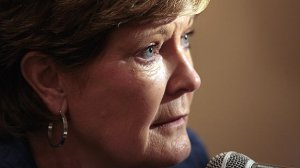 She's easily one of the top four or five most influential women in sports history. She's one of the greatest coaches, any sport, any level, any gender, of all time.
Summitt, the tall, lean farm girl from west Tennessee, was at the right place at the right time, at the University of Tennessee, in a state where girls' high school basketball was popular, to build the first great national major-college powerhouse in women's basketball.
She was also the right person at the right place at the right time.
Working in Tennessee through much of that time, I couldn't help be in awe of her program, with the wins it earned and the class it exuded. I interviewed her a couple of times and saw her teams play on occasion. What I'd give now to find the Lady Vols' practice T-shirt one of her players once gave me.
There was the famous glare and the scowl, but there was a goofy nature there. Because we'll unfortunately never erase the image of a shirtless, orange-painted Bruce Pearl rooting on the Lady Vols, we forget that Summitt returned the favor by dressing like a cheerleader.
Her friend, the writer Sally Jenkins, called her a "roiling, sparkling ocean of a person."
"Trailblazer, ambassador and missionary," The New York Times called her.
In those three descriptions, I have my greatest appreciation.
The insidious disease that is Alzheimer's hits close to home for me, as some readers know. I lost my mother and my paternal grandmother to the disease. I am – full-disclosure here – a board member of the Mid-South Chapter of the Alzheimer's Association.
Summitt died on Tuesday, but Alzheimer's brings so many levels of death. Diagnosis alone is a death sentence. Then a lifetime of treasured memories dies, along with recognition. Then, for the family and friends, the person they knew dies, leaving behind someone filled with distrust or confusion or incurable sadness.
That Pat Summitt made her fight against Alzheimer's Disease her last great mission can be monumental in the overall cause. She helped raise substantial money for research and support through her foundation.
She was only 64 and in an awareness aspect, if nothing else, that reminds us Alzheimer's Disease is not simply an old-folks ailment. Early onset cases are diagnosed much earlier in life.
She was a trailblazer and ambassador for finding a cure and enabling research, "a courageous advocate for the cause," said Harry Johns, the CEO of the Alzheimer's Association.
Alzheimer's Disease is a private matter for many families. A disappointingly large number of well-known Alzheimer's sufferers have chosen not to be as public as Summitt, and that's only served to perpetuate the stigma.
That's understandable, though. It robs much more than memory. It can steal dignity, elegance, comfort. Yet Summitt maintained a public profile, accepting the Presidential Medal of Freedom, attending some games, appearing at fundraisers, even as the once-steely blue eyes revealed the tell-tale signs of discomfort.
No single person advanced the cause of women's college athletics more than Pat Summitt. While no single person can advance the cause of Alzheimer's Disease, her brave choice to serve as trailblazer, ambassador and missionary in the fight, to live her life to the fullest even as the days grew darker, could become an even greater legacy.
Mark McCarter writes a weekly column for The Anniston Star. Contact him at markfmccarter@gmail.com, on Twitter @markmccarter.