This is an archived article and the information in the article may be outdated. Please look at the time stamp on the story to see when it was last updated.
HUNTSVILLE, Ala. – Sarah Margaret Cimino and Cade Overbeek committed to major college swim scholarships with Auburn University. Chloe Hui recently inked her pact with Savannah (Ga.) College of Art and Design. Sam Vasquez pledged to Loyola University of New Orleans.
Cimino is a senior at Randolph High School. Overbeek preps at Huntsville High School. Both train and compete year-round for the Huntsville Swim Association. The two USA Swimming Scholastic All Americans say Auburn was a natural choice.
"I chose Auburn because it felt like home," Cimino said. "My parents went to Auburn and my brother is a senior there, so I have grown up around Auburn. I figured that I would love it as much as they did and sure enough I did."
"My dad and uncle swam at Auburn and it's been a goal of mine to swim there since I was a little kid," Overbeek said. "All of the coaches were super nice at Auburn and I knew that it would be the place for me to not only grow as a swimmer, but into a person."
Cimino, 18, is a five-event Junior National qualifier with HSA. She recently made the finals in the 100 back at the Winter National Championships in Atlanta, Ga. She's been ranked top 10 in the nation in the 100-meter butterfly and top 20 in 200 and 400 relays.
The talented scholar athlete was a bronze medalist at the 2016 USA Swimming Futures Championships in the 100-meter backstroke. She was also a Zone Select Camp Qualifier in 2013.
A three-time prep state champion at Randolph, Cimino holds the 1A-5A state record in the 100-yard butterfly and 100 backstroke. She was also state champion in the 500 freestyle in 2013 and 2014.
Cimino began competitive swimming in the Rocket City Swim League and for HSA at age 5. She was also an assistant coach at Blossomwood Pool. Cimino set several RCSL records during her 12-year career and holds numerous club records with HSA.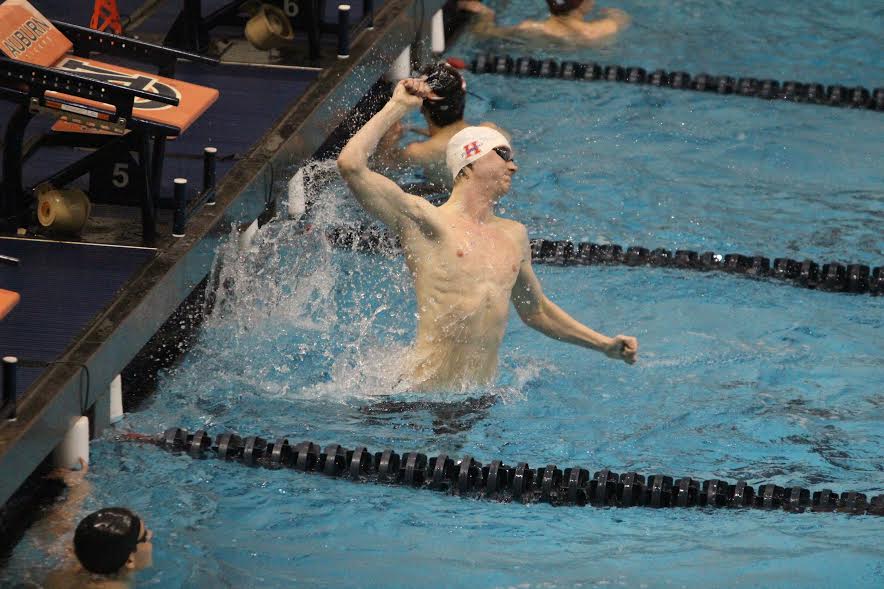 Overbeek, 18, started competitive swimming at age 4 for Piedmont in the RCSL. He initially swam year-round for Mountain Valley Aquatics at age 10 and matriculated to HSA at age 12. The National Honor Society member was on three state title teams at Huntsville. At his last state meet, Overbeek set state 6A-7A records in the 50 free and 100 fly as the Crimson Panthers' team captain. He also collected gold medals as part of the 200 and 400 freestyle relays.
At HSA, the two-time Junior National qualifier made the 100-meter butterfly long course finals at the 2016 Futures Championships.
"I'd really like to thank my parents and family who stayed with me through this journey and constantly believed in me," Overbeek said. "Also, thanks to my coaches and teammates who pushed me every day at practice. My dad was the one who taught me how to swim and my mom signed me up for year-round swimming and helped take me on all my college visits. I will be officially signing with Auburn during the spring signing period in April."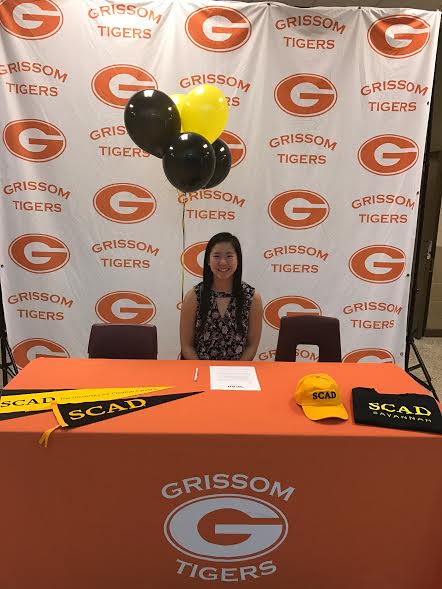 Hui made her commitment to swim at a college tailored toward her expertise outside of the pool.
"I wanted to find a school where I could pursue my artistic interests while continuing my swimming career," Hui said. "Savannah College of Art and Design offers me the perfect mix of both. I could not be more excited to spend the next four years doing the two things I love most."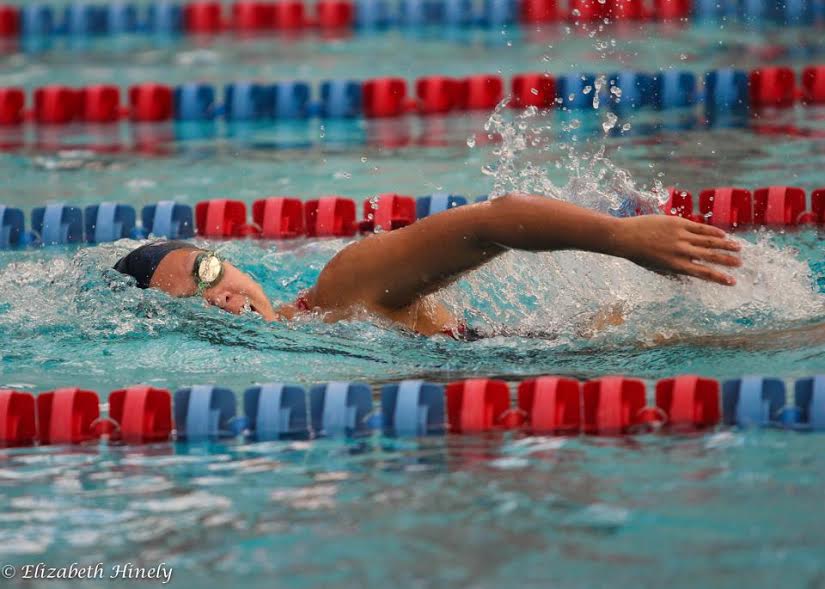 Hui, 18, a senior at Grissom High School, is in her 13th season with HSA. She started swimming at age 4 for Jones Valley in the RCSL and finished up with Byrd Spring. She's a member of the National Honor Society, Grissom's winner of the Wendy's High School Heisman, a 2015 USA Swimming Scholastic All-American and a NCSA Junior National qualifier.
"I took my first art class in 7th grade, but I thought of it as another mandatory middle school class. The second semester of my freshman year, I took a visual arts class and it sparked my interest in art. I decided to sign up for the Drawing 1 class my sophomore year. With the guidance of an amazing teacher, I fell in love with drawing. I am taking AP art, where I am building up a 24-piece portfolio that shows my range of skills and my journey as an artist."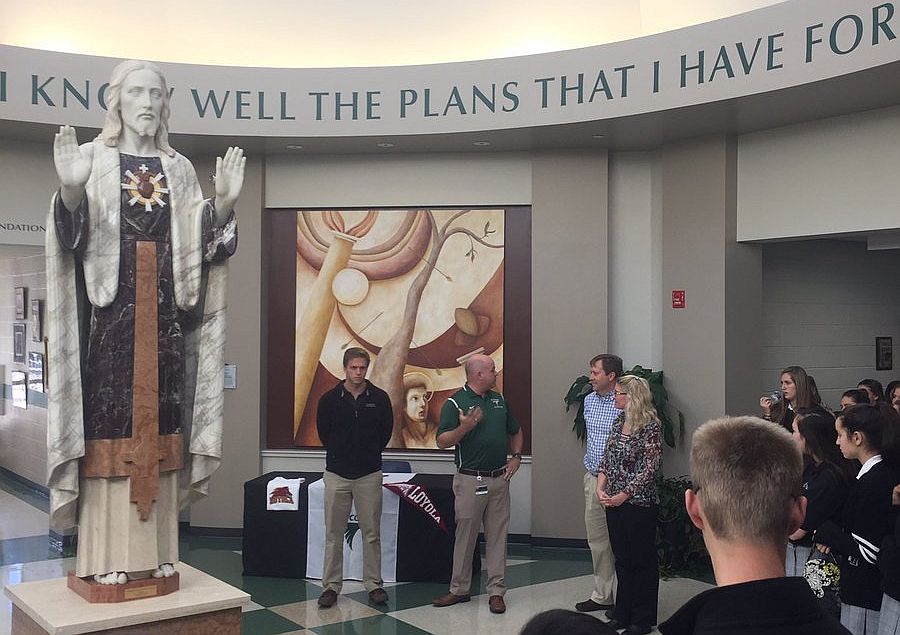 Vasquez, 18, a senior at St. John Paul II Catholic High School, explained how he narrowed his college choice down to Loyola of New Orleans.
"I used a college search tool our guidance counselor gave us and found the best criteria matches for me and Loyola was one of my top options," Vasquez said. "I did more research on it and really liked what I found. I am real excited about continuing my swim career at Loyola. I feel that it is the perfect fit for me both academically and athletically."
Vasquez has been a member of HSA for 12 years. He currently has Junior National cuts in the 50, 100 and 200 freestyle.
He swam his first competitive event at age 4 with Chapman in the RCSL. He moved to Byrd Spring for the past 10 seasons. Vasquez also serves as a volunteer assistant for the Showers Center inner city team hosted by HSA. He's a member of the National Honor Society, the National German Honor Society and a past president of the German Club.
HSA hosts the 2017 New Year's Intra-squad Meet at Redstone Arsenal Aquatics Center on Saturday, Jan. 7, beginning at 9:15 a.m. The meet features athletes looking to secure times for the upcoming short course championships which begin in February.
HSA utilizes the indoor Redstone Aquatics Center, located at building 3705 on Aerobee Road, for part of its team training. The Aquatics Center is an eight-lane, 25 yard facility. The pool is operated by the army's MWR program.
"Redstone has an outstanding facility to host a meet of this magnitude," said HSA Head Coach Matt Webber. "Most meets are held over two, or even three days. This team meet is just one day. It gives the athletes and their parents a chance to have the rest of the weekend free."
Webber is in his eighth year as head coach and program director. He is also the current year-round mentor of all four of the college signees.