This is an archived article and the information in the article may be outdated. Please look at the time stamp on the story to see when it was last updated.
MADISON, Ala. — After three months of ideas, voting and speculation, it has been decided: Madison's Minor League Baseball team will be known as the Rocket City Trash Pandas.
BallCorps Inc., the owner of the Southern League franchise that will be located in Madison, made the announcement Wednesday night at a reveal party at Rocket Republic Brewing.
Matthew Higley of Lacey's Spring made the team name suggestion and gets two box seats for the first five years of play. He also will get to throw out the first pitch at a home game in 2020.
"I don't want to compare it to rocket science, but there's a lot that goes into naming a baseball team," he said after the reveal. "You've got to get something that has a good mascot, right? Raccoons– probably the best mascot."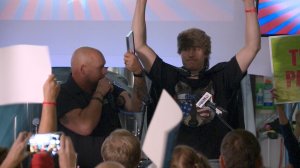 Higley said, surprisingly, he wasn't thinking of Guardians of the Galaxy when he came up with Trash Pandas.
"I've seen the movie, and I love the movie. I was just thinking of animals local to the area and nicknames for them," he admitted.
Higley said he doesn't typically get on social media, but he checked daily once his team name was selected. Now, he is looking forward to going back to his normal life.
"I'm going to go ahead and say my wife is going to be very glad this is over," he said. "Same with me."
Higley plans on taking his wife or his 5-month-old son, Duke, to the games.
"I'm ready to watch some baseball! Baseball is back in North Alabama!" he said.
The Numbers
Trash Pandas was the dominant favorite in both rounds of voting. It received 45 percent of the votes in the second round. The second-place suggestion, ThunderSharks, received about 19 percent. Moon Possums had 13 percent, Space Chimps 12 percent and Comet Jockeys 11 percent.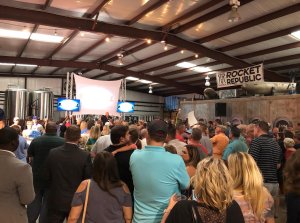 The description given during the naming contest for Trash Pandas said, "Our community is known for engineering, and no creature in our galaxy is as smart, creative, determined and ingenious a problem solver – dedicated to the challenge at hand – as our local raccoons!"
The "Rocket City" region identifier received 67 percent of the public's votes. "North Alabama" received 18 percent, and "Madison" 15 percent. A total of 13,559 people voted on the region identifier.
BallCorps said 28,560 nominations and votes took place during the naming process on the team's website – the most participation the company said there has ever been for naming a Minor League Baseball team.
"We knew, we always believed, this was the best market in the country that did not have a minor league team. This is why we brought it here," said Ralph Nelson, BallCorps Managing Partner.
He said the amount of votes and participation was proof of this.
"This community is hungry, and we are going to do our best to really become part of this and give this community something that they want," he stated.
The Reaction
Ryan Serafin of Madison brought his two sons, Noah and Martin, to the celebration at Rocket Republic on Wednesday.
"I was a big fan of everything except for ThunderSharks," he said, holding a sign that said the same. "You're not finding many sharks up here in the Madison area. That was my main reason, but I had to back them up," he said, gesturing to his kids.
"Pandas are cool!" Noah echoed.
"Trash is gross, and it's cool," Martin said.
But some, like the Linares family, came to support another name. Ashley Linares and her girls, Lily Ann and Sofia, came dressed as sharks to support the ThunderSharks.
"We came in knowing it would be a tough battle against the trash pandas, and they pulled it out," Linares admitted. "It's ok! It's all in good fun."
She knows her feelings of defeat won't last for long.
"I'll buy a Trash Panda jersey. We'll be there at the games," she said.
We asked Linares, who lives in Madison, what she thinks about the Rocket City identifier in the team name.
"I live in Madison, I love Madison," she said, "but I thought maybe the Rocket City would encompass the entire community the best."
What's Next
The Trash Pandas are expected to throw out their first pitch in the 2020 season. They will play at a multipurpose venue currently under construction at the Town Madison development off I-565 near Zierdt Road.
BallCorps is working with branding company Brandiose to develop a Trash Pandas logo, which will be unveiled Oct. 27 at a community celebration. The celebration will take place at 6 p.m. in Dublin Park. Fireworks and a free concert by Huntsville band Dirt Circus will be featured at the event.
"We have to get the logos done. I saw some drawings last night– I almost fell over, they were so beautiful," Nelson commented.
BallCorps said a merchandise store will also open Nov. 12 at Bridge Street Town Centre, next to the Apple Store. The team will begin taking season ticket deposits at $250 per seat when the store opens.