This is an archived article and the information in the article may be outdated. Please look at the time stamp on the story to see when it was last updated.
MADISON, Ala. – The owners of the minor league baseball team heading to Madison have narrowed down the team's name to five choices.
BallCorps, LLC released the final five Friday morning for baseball fans to vote on.
The finalists are, with the reasoning behind each name:
Comet Jockeys – "'Rocket City' was put on the map for its cutting-edge aerospace development. Comet Jockeys is a celebration of our brave astronauts who explore outer space."
Moon Possums – "A scavenger at heart, these local critters are known for hanging around and having a good time with their family – just like going to a ball game!"
Space Chimps – "A tribute to Miss Baker, one of the first animals safely launched into space. She is buried on the grounds at the U.S. Space and Rocket Center."
ThunderSharks – "Mix the powerful thunder of North Alabama's storms with the ultra-strong, sleek determination of the shark and you end up with the personality of our community: willing to attack any problem. Visiting teams won't mess with ThunderSharks."
Trash Pandas – "Our community is known for engineering, and no creature in our galaxy is as smart, creative, determined and ingenious a problem solver – dedicated to the challenge at hand – as our local raccoons!"
Fans can vote on their choice for the team's name here. Voting ends at noon Sept. 3.
The final team name will be announced Sept. 5 at 6 p.m. at Rocket Republic Brewing Company in Madison.
The first round of voting, which consisted of 10 choices for the team's name, brought in more than 15,000 online ballots, according to BallCorps. Army Ants, GloWorms, Lunartics, Puffy Head Bird Legs and Space Sloths failed to make the cut.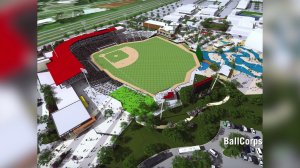 The yet-to-be-named team is scheduled to begin playing in the 2020 season at a stadium that will be located in the Town Madison development, which is currently under construction at Interstate 565 and Zierdt Road.