This is an archived article and the information in the article may be outdated. Please look at the time stamp on the story to see when it was last updated.
HAZEL GREEN, Ala. – Samantha Mayes and Glenn Carr were both named head coaches for the Hazel Green High School swim team on Wednesday night.
"I think we hit a home run with our two new coaches," said Hazel Green Athletic Director and Assistant Principal David Manning. "We want to take swimming to the next level."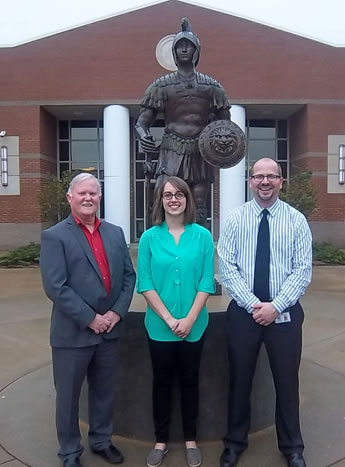 Mayes and Carr replace Jon Mark Lovell, who stepped down after two seasons to concentrate on coaching the Trojans' baseball team.
"Coach Lovell did an outstanding job of holding the program together and keeping the kids going in the right direction," Carr said.
According to Carr and Mayes, more than 95 percent of the Trojans' 2015 varsity prep squad will feature sophomores or lower, including several middle school athletes.
"We are very young, but we have some superb talent coming in, along with some very good returning swimmers," Mayes said. "Our feeder programs from the middle schools will bring us some very talented swimmers right away."
Mayes received a Bachelor of Science degree in secondary education and a Bachelor of Arts in English at the University of Alabama-Birmingham last year.
The 2010 Sparkman High School graduate is entering her third season as head swim coach at Mt. Carmel in the Rocket City Swim League. She's a former swim instructor and certified lifeguard at the UAB Recreation Center.
"I'm really excited about Hazel Green swimming," Mayes said. "I'm a fan of the Madison County system. When I learned there was an opening here, I knew this would be a great place for me."
Mayes is a former year-round club USA Swimming athlete with Madison and Huntsville.
"It is such an honor to work with Samantha," Carr said. "She was a talented swimmer and she's an outstanding coach. I can learn a lot from her."
Carr is a 1969 graduate of Lee High School where he lettered in swimming. He's received a degree in business administration in 1974 at Athens State.
The local swim pioneer is instrumental in the growth of the sport throughout the area. He is recognized as one of the foremost authorities in youth swimming. He's started, or rejuvenated, several swim programs over the years. In 2010, he recruited 13 high schools and started the North Alabama High School Swim League.
"Samantha and I are on the same page," Carr said. "We both have knowledge that is beneficial. As coaches, we have to know how to work with one another. We have to know how to work with the athletes. We have to know how to communicate with the parents and the faculty.
"We just can't talk to the swimmers. You have to know all the angles. You have to be well versed. Samantha knows these things, or she would not be as successful as she is at coaching. I know she is very talented at all the aspects. Most importantly, she does things the right way."
Carr is a former high school coach at Lee-Huntsville, Emma Sansom-Gadsden, Decatur and Austin. He also coached on the collegiate level as an assistant in 1977 at the University of Texas-Arlington.
The highly personable instructor first led Monte Sano in RCSL in 1971. He then started the Chapman Swim Team in 1973. He's also turned the Jones Valley program around. Carr reinvigorated a winless team in one season by leading the Blue Wave to a 5-1 regular-season mark in 1975.
He is now entering his 12th season at Sharon Johnson. Carr took over at Sharon Johnson, following a devastating tornado that all but wiped out the team from the league.
Sharon Johnson had a six-year regular-season winning streak snapped in 2014. Several of Carr's current summer league swimmers are now with him at Hazel Green.
"I've been swimming with Coach Glenn in summer league since I was age 6, so I've been with him for about 9 years," said Hazel Green freshman Isabelle Robinson. "I respect him a lot. He makes it fun. He encourages us and has that way of letting us know we can do our best. I think Coach Mayes is going to be a great addition as well and she'll really get us ready for meets."
"I've been with Coach Glenn for 11 years," added Tyler Quick, another talented Trojan freshman. "I think this is great for Hazel Green. With Coach Glenn and Coach Mayes, I think we have a chance to really move forward and improve as a team."
The Hazel Green boys and girls finished third overall in the 2014 County Championship Meet. Robinson had second-place finishes in the 50 free and 100 breaststroke. Quick won the 200 IM and was second in the 100 fly. The Hazel Green boys won the county title in 2013.
"It's pretty amazing we have two coaches now," said Hazel Green freshman Erin Ussery. "It really gives us a leg up on everybody else.  I've known Coach Samantha for a while now. I'm really excited to see what she brings to the team. We should be much better with them both here. We'll have more people on the team next season, too, and that's a plus."