This is an archived article and the information in the article may be outdated. Please look at the time stamp on the story to see when it was last updated.
More than 50 teams from north Alabama were slated to kick off the first round of the playoffs on Friday, but with possible sketchy skies on the horizon -- check the latest forecast, the state decided to call an audible.
The Alabama High School Athletic Association announced around lunchtime Monday that high school football teams could opt to play their first round playoff games on Thursday instead.
"We just wanted to provide schools with some flexibility with the possibility of bad weather throughout the state on Friday. I hope it is sunny and beautiful on Friday, but if it is not, at least we will have had an option," Steve Savarese, AHSAA Executive Director, told our media partner, AL.com.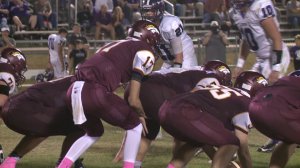 Madison Academy was one of the first teams to pull that Thursday trigger.
"We really, ideally, don't want to play a game over the course of two days. Thursday's weather was a little better on the forecast," said Eric Cohu, Madison Academy's head coach.  "It's going to do some damage to the field and, you know, a lot of teams have to turn around and play there again next Friday, so certainly that becomes and issue as well."
Both teams had to agree to the kickoff change, but this affects more than just the players on the field.
"Then, of course, we had to talk to all of the people that are involved in field painting and referees and getting the ambulance," said Cohu.
Soon after the shift, many teams throughout the state followed in the defending class 3A state champs' cleats.
All will now be prepping on a short week, but with so much more on the line.
"During the season, a game on Saturday or even postponed to Monday doesn't have as big of effects as during the playoffs," said Cohu.
We've compiled a list of game schedule changes -- check the latest update.