This is an archived article and the information in the article may be outdated. Please look at the time stamp on the story to see when it was last updated.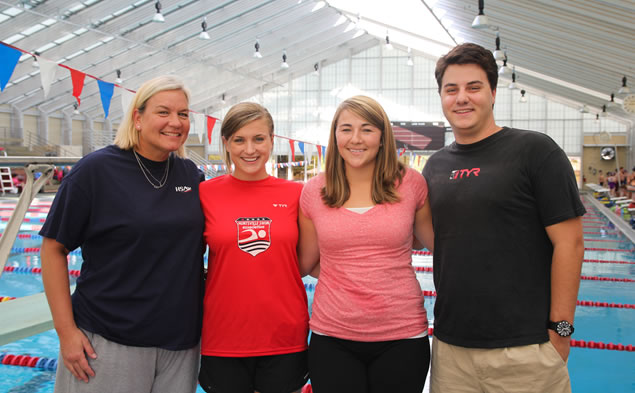 HUNTSVILLE, Ala. – The Huntsville Swim Association hosts the Fran Norris Invitational presented by First Place Athletics Oct. 24-26.
The USA Swimming sanctioned meet attracts many of the top athletes in the Southeast to Huntsville's indoor Natatorium, located at 2213 Drake Ave.
Warm-ups begin at 4 p.m. Friday. Competition starts at 5:30. Ten-and-under swimmers have warm-ups at 7:15 a.m. on Saturday and Sunday with events beginning at 8:30. The 11-and-over competition is scheduled both Saturday and Sunday afternoon.
HSA head coach Matt Webber recently hired four assistants to round out his staff. Hannah Grace Busk is the new lead intro to HSA coach. Susan Swing is her assistant. Stephanie Beddingfield is lead white group coach. Cole Austin Jolley primarily assists with the juniors and seniors.
"We have a talented group of new coaches," said Webber. "They will all also assist in other areas and they all have a wealth of knowledge."
Busk is a former HSA star swimmer. She still holds team records from 2008 as part of the age 13-14 freestyle and medley 200-meter relay teams.
She prepped at Grissom High School and was named to The Huntsville Times Elite Team four years in a row. She earned The Times' Swimmer of the Year title in 2008, 2009 and 2011.
Busk was the Birmingham Southern College female Athlete of the Year this past season, after earning her second straight Southern Athletic Association Women's Swimmer of the Year honor. She won seven individual SAA titles as the Panthers won the 2014 SAA title. She was named All-Conference and holds several school records.
"Working with the intro to HSA group is very challenging," said Busk, who is also now pursuing a nursing degree at the University of Alabama-Huntsville. "These are the ones just learning the sport. We have good structure in place for this new group and I have some really great help. Susan (Swing) is a super talented teacher and so very patient. She is very good with these little ones."
Busk just finished her second year as head coach of Lily Flagg in the Rocket City Swim League and is currently the new head coach at Huntsville High School.
Swing assists Busk in both intro to HSA and at Huntsville High School.
"Hannah is very aware of the latest and most effective workouts," Swing said. "She is able to cater to the needs of each individual swimmer."
Swing has taught swim lessons and worked for various swim teams for 35 years. She began swimming at the age of 5 in Mobile, competing 12 years on the Spring Hill Swim Club team. She started swimming year-round at age 8 with a local YMCA team and later joined the City of Mobile Swim Association.
A team representative for Blossomwood (RCSL) for the past 13 years, Swing has also served on the RCSL and NAHSSL swim boards. She's known by many in the swim community as the voice of the RCSL finals with her enthusiastic and inspiring introductions.
"The intro to white group is a fabulous addition to the HSA program this season," Swing said. "I was honored to be asked to help. It is designed to help the young swimmer get familiar with and master all four strokes."
When not at the pool, Swing is a fifth grade special education teacher, working with autistic and developmentally delayed students at Whitesburg in the Huntsville public school system.
Beddingfield leads the next group up in the progression: the white squad. Beddingfield swam for Lee Farless at Huntsville High School and Brooke Pate at HSA.  She was a member of the Huntsville Crimson Panthers' 200 medley relay state record teams of 2001, 2002 and 2003. She was All-Metro and All State all three of those seasons. She won the 2001 USA Swimming Southeastern 100 breaststroke title.
Beddingfield went on to swim four seasons at the University of Alabama. She competed in several events each season for the Crimson Tide and also in the SEC Championships, while completing her degree in communications.
"When I came back to Huntsville, after college, I married and we have two wonderful children," Beddingfield said. "My husband, Daniel Beddingfield, is a Huntsville firefighter. Our daughter, Blakely, is age 3. Our son, Daniel Uriah Beddingfield, who goes by Rye, is 19 months old. I took this position because I really love competitive swimming and year-round swimming. I also work at our church daycare.
"I was a summer league coach and head coach with my step father (Bill Neville) this past summer at Hampton Cove (RCSL)," Beddingfield added. "Matt (Webber) was actually my zones coach my senior year in high school. He is an excellent coach. Our philosophy with the white group is quality over quantity. We want them to have the right technique at this level."
Jolley lettered in swimming at Homewood High School. He initially made the high school team as a seventh grader. He swam for the Birmingham Swim League and Delta State University (2010-2011). After his college swimming career ended due to a back injury, Jolley matriculated to Auburn University and received a BA in sociology.
He coached in the Birmingham summer league for seven years, including stints with former Auburn star swimmer Jeremy Knowles, who also was a three-time Olympian for the Bahamas.
"Working with Jeremy Knowles and learning from him is where I kind of got my love for coaching," Jolley said. "I wanted to keep doing it. With this opportunity to mainly help Coach Webber with this talented group of junior and senior swimmers, I am able to do so."
Returning coaches Dave Kalange (head age group coach) and Arthur Fortin (lead red group) round out Webber's staff, along with Brooke Pate (masters) and Josh Trexler (head diving coach).
The Jack Frost Meet was renamed the Fran Norris Meet in 2007 for the longtime senior development and masters coach for HSA. In 2009, Norris was inducted into the Madison County sports Hall of Fame. In 2012, she became a member of the prestigious Southeastern Swimming Hall of Fame.
Her son, Tim Norris, prepped at Huntsville High and was an All American (1975) at the University of Alabama. He's a world-renowned ambassador of the sport and a former HSA instructor.
"I swam for Coach Tim," said Busk. "He was my coach when I made my first Southeastern cut and when I first started getting serious about the sport, so I attribute a lot of my swimming success to him."