This is an archived article and the information in the article may be outdated. Please look at the time stamp on the story to see when it was last updated.
HUNTSVILLE, Ala. – After his brilliant performance recently at the National Club Swimming Association Championships in Orlando, Fla., Zach Harting, 17, of the Huntsville Swim Association is flying out of the country.
No need to worry, though. Batman returns!
The Bob Jones High School senior is now part of the NCSA All-Star squad of elite age 18-and-under swimmers. He'll travel to Dublin, Ireland, to compete for the USA against other world-class athletes in the FINA-approved Irish Open Swimming Championships April 30-May 3.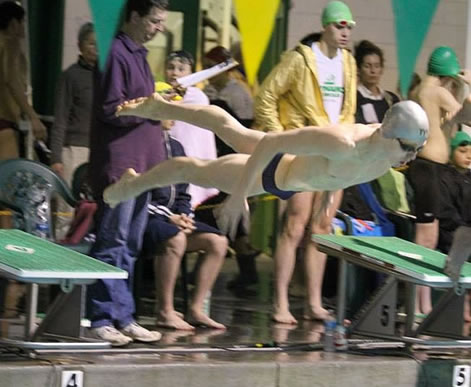 To give perspective, there are roughly 400,000 USA Swimming athletes across the nation. The NCSA junior national championships in Orlando featured just a fraction of the top one percent of those swimmers who met strict qualifying standards in order to participate.
The squad going to Ireland is basically limited to the top two swimmers in each current Olympic event from junior nationals and features the cream of the USA's upcoming crop of young athletes.
"Anytime you make an international trip, it's a pretty big deal," said HSA Head Coach Matt Webber. "To make this team was a significant achievement."
Harting finished second in all three butterfly events in Orlando. He set the stage for the trip to Ireland in his first event, the 200 fly.
"I knew the top two had the chance to go to Ireland before the meet, but I didn't dwell on it because my nature is to stay more relaxed and enjoy the moment," Harting said. "If I get too tense, I usually don't do as well. I changed a little of my race strategy and went out smooth the first 100 and then went all out the second half of the race. When I finished, it took me a few seconds to realize all I had accomplished."
His 200-meter long course butterfly time of 2:00.14 in the finals lowered his 2016 Olympic Trials qualifying mark of 2:01.12 he set at the 2014 Junior National Championships in Irvine, Cal.
"You see kids who perform at a different level at these meets, they have a different mentality," Webber said. "It's not arrogance; it's a self confidence that is unstoppable.
"He has fun with it," Webber added. "For the 200, he walked out in a Batman mask and cape. It helps lighten the mood and keeps him loose. It also is realizing that in the end, it's just swimming. As an elite athlete, that's one of the hardest things to do."
Harting was the state's number one swim prospect before recently committing to the University of Louisville. He's earned USA Swimming Scholastic All American honors two years in a row.
The swimming phenom proved he hasn't peaked as a butterfly artist by showing up seeded fourth in the 200, 17th in the 100 and 14th in the 50, before finishing second in each event. His 200 short course preliminary time was nearly two seconds faster than his previous best. This meet featured short course in the prelims and long course finals.
"Since this was the end of the short course season, we only had a few long course practices at HSA," Harting explained. "You have to meet long course standards to make the Olympic Trials. I feel good about possibly attaining more cuts. I'm getting closer to the standards in several events."
Harting was seeded 32nd in the 400 IM in Orlando and wound up fifth. He also finished 16th in the 100 free, 26th in the 200 IM and 38th in the 50 free.
"I think Zach's attention to detail is his strength," said Webber. "He's worked hard on his underwater kicks with our team in practice and has bought into getting better at it. Learning how to compete at that level is also big. This was his third time at this particular meet."
Webber is in his sixth season as HSA's head coach and program director. Over the course of his 17 year coaching career, the Clemson University graduate has mentored swimmers to the highest level of the sport, including junior national, national and Olympic Trial qualifiers.
"Coach Matt (Webber) and Coach Cole (Jolley) were with me at the junior nationals and they are a big part of my success," Harting said. "All of the HSA coaches and my teammates have meant so much to me."
Sarah Margaret Cimino, 16, was another busy swimmer for HSA as she qualified for eight events in Orlando. She finished 13th in the 50 fly (28.24) and 18th in the 100 fly.
Regan Weakley, 14, also scored individual event points by finishing 23rd in the 50 free with a time of 26.74 in the long course finals.
"The fun thing on the girls' side was the oldest girl we took was a sophomore in high school," Webber said.
Ryan Barlow, Braxton Conners, Matthew Cooper, Isaac Devaney, Macon Graves, Allison Hu, Chloe Hui, Kobie Melton, Mary Monk and Cade Overbeek also swam for HSA in the meet which was held March 17-21.
Monk, 12, set two meet records at the ESSZ Age Group Sectionals held March 12-15 in Atlanta. A pair of 12-year-olds, Claire Blasingame and Rebekah Hamilton also made the finals in multiple events for HSA.
Ethan Wan, 12, had multiple top 10 finishes for the HSA boys. Riley Groves, 10, collected five top 10 finishes and Will Byrd, 10, was ninth in the 100 back.
Aaron Hill, Caleb Chance, Mary Foster King, Julia Krichev, Carlee Nabors, Kate Reeves, Anna Kathryn Schloss, Gabriel Shreve, Caleb Worshek, Riley Worshek and Madelyn Yates also competed in the sectional meet.
Rounding out the championship season, HSA had 71 athletes attain qualifying times for the 2015 SC Southeastern in Knoxville, Tenn., held Feb. 26 to March 1.
Swimmers qualifying for HSA included Andrew and Carson Amos, Bailey Anderton, Bo and Ryan Barlow, Chris Barraza, Emerson Barrett, Chris Bedsole, Claire Blasingame, Becca Blevins, Will Byrd, Annie and Henry Calatrello, Devin Campbell, Caleb Chance, Maddie and Sarah Margaret Cimino, Braxton Connors, Crossan and Curtis Cooper, Ryan Counts, Collier and Isaac Devaney, Macon and Virginia Graves, Riley Groves, Rebekah Hamilton, Samuel Hardy, Zach Harting, Aaron Hill, Joe Hinely, Alison Hu, Chloe Hui, Alana Janssen, Mary Foster King, Kevin Luo, Michael Matthews, Eboni McCarty, Kobie Melton, Mary Monk, Carlee Nabors, Will Neville, Mary Northcutt, Cade Overbeek, Mark Payne, Emma Preston, Kate Reeves, Sofia Roberts, Anna Kathryn Schloss, Jack Sentell, Jia Jia and Ming Ming Shen, Lindsey Shepherd, Gabriel and Taya Shreve, Austin Smith, Henry Stephens, Andrew Sterns, John Stokes, Jared Sutphin, Joe Swing, Landon Theisen, James-Hale Thomas, Emily and Sam Vasquez, Ethan Wan, Regan Weakley, Josh Wiggins, Caleb and Riley Worshek and Madelyn Yates.